Report: Pacers to target Brandon Roy, O.J. Mayo, and Jamal Crawford in free agency
The Pacers are planning to target Brandon Roy, O.J. Mayo, and Jamal Crawford in free agency.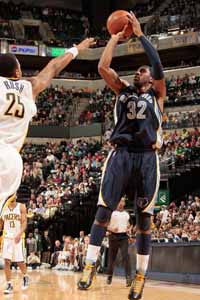 The Pacers will target O.J. Mayo in free agency among others.
(Getty Images)
The Indiana Pacers want an upgrade at the two-guard spot, presumably off the bench, and they're not going to swing lightly on it. 
The Indianapolis Star reports: 
Pritchard plans to work the phones in an attempt to add another big man and scorer on the wing. Guards Brandon Roy and O.J. Mayo are two wing players the Pacers plan to pursue. Jamal Crawford could also be a possibility.
via Pacers aim to lock up Roy Hibbert, George Hill as free agency looms | Indianapolis Star | indystar.com.
Roy is still working to come back from retirement due to knee issues but already teams are lining up. Mayo was not tendered a qualifying offer from Memphis, with the Grizzlies essentially letting him go into unrestricted free agency. Crawford had a disappointing season on a disappointing Portland team, but will still get offers. 
The Pacers have great depth and this would add more of it. Their versatility last season was a major strong suit with Frank Vogel able to deploy dual point guard lineups with George Hill and Darren Collison, or go with Paul George at the two-guard spot with Danny Granger at the three. 
But they did struggle with scoring in the playoffs, and lacked a great perimeter shooter. All three listed above would fill that need. Roy only having to knock down shots would limit the wear and tear on his body. Mayo as a catch-and-shoot option would function nicely, and Crawford is a big shot machine.
Interestingly, though, all three score best with the ball in their hands, which may require some adjustment. Having another shot creator may not be the worst thing for them, though. 
After a very strong season and coming very close to knocking the Heat out, the Pacers are in a position to improve even more. The good get better. 
Wade opted in to his $24 million player option earlier this summer

Barkley spoke to the NFL Today crew about the response the president received in his home...

The restricted free agent has a deal in place that will keep him with the Bulls after a st...
James' support continues his trend of social activism on social media

The newly-acquired All-Star thinks the addition of Anthony boosts the Thunder in the NBA's...

The Knicks were asking for the house in discussions for Carmelo Anthony