Report: Patrick Ewing will be associate head coach for Bobcats
Patrick Ewing is still trying to become a head coach, but will reportedly have to settle for one step closer as associate coach for the Bobcats.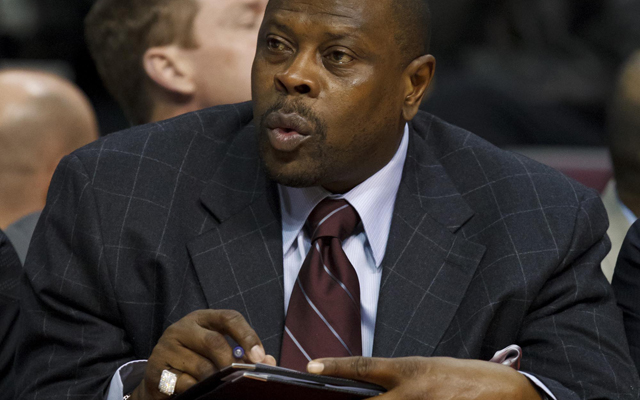 Hall of Fame player Patrick Ewing has been angling for years to be a head coach in the NBA. Instead of being given a chance to lead his own team, he's always been stuck as an assistant coach to help complement the man in charge. He's worked for both Jeff Van Gundy and Stan Van Gundy as an assistant over the years.
According to Adrian Wojnarowski of Yahoo Sports, Ewing will be one step closer to becoming the head coach for an NBA team with the Charlotte Bobcats. He'll be the associate head coach under recently hired coach Steve Clifford. It's a fancy way of saying he'll be the lead assistant coach.
Hall of Fame center Patrick Ewing has reached agreement to become the associate head coach for the Charlotte Bobcats, league sources told Yahoo! Sports. ...

Ewing will join the coaching staff of new Bobcats head coach Steve Clifford. Ewing and Clifford have a strong professional and personal history together.
Ewing's long-time friend and Bobcats owner Michael Jordan hasn't been willing to give him the coaching job outright after hiring Mike Dunlap over Ewing. Ewing interviewed for the Bobcats' coaching job in 2012. But this is another step closer to Ewing proving himself as a potential coach some day. 
Back in May, Ewing expressed his frustration with the lack of an opportunity. He cited Tom Thibodeau of the Chicago Bulls as someone who needed a long time before finally getting the coaching nod and that he was able to take full advantage of it once he was hired. Ewing also interviewed for the Detroit Pistons' coaching job in 2011 but was passed over for Lawrence Frank.
Larry Hartstein is 14-6 on Sixers picks and 16-8 on Timberwolves picks and has a strong play...

The kid just about lost his mind after getting Durant's game-worn sneakers

The revamped Thunder lost on Monday night, dropping to 12-14 on the season
Two of the league's young, up-and-coming squads will square off on Tuesday in Minneapolis

Kawhi Leonard is set to make his season debut for the Spurs

Lonzo Ball will make his Madison Square Garden debut