Report: Pau Gasol off the trade block
Lakers center has played well enough to no longer elicit trade offers from LA.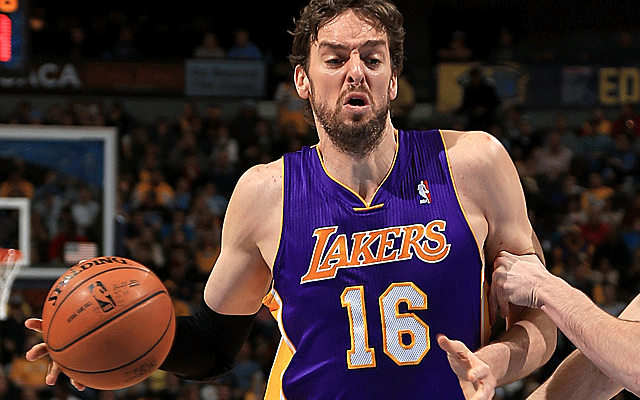 After the big Pau Gasol-Mike D'Antoni blow up last week, Pau Gasol has responded with some quality play as of late. He's complained less and made more shots, which was really at the heart of the argument. Meanwhile, the Lakers had leaked to the media that they were considering trading him since he was such a pain to deal with. 
Now that appears to be over and it's all happiness and rainbows in Lakerland. From ESPN LA: 
The Los Angeles Lakers have decided -- at least for now – that they're better off keeping four-time All-Star center Pau Gasol, according to sources close to the situation.

Sources told ESPN.com that the Lakers, after weighing the idea of making Gasol available before the NBA's annual trade deadline in February, are encouraged by the way Gasol has played over the last three games as well as his efforts to make amends for his recent public spat with coach Mike D'Antoni.

The Lakers entered the 2013-14 campaign fully intending to keep Gasol for the whole season and then explore the feasibility of re-signing him in the summer. But ESPN.com reported last week the Spaniard's recent public complaints about how he's been used in D'Antoni's system, as well as some sub-par play, prompted L.A. to begin assessing its trade options.

The way Gasol, however, quickly made amends with conciliatory comments about D'Antoni during the team's recently completed 2-2 road trip has eased concerns.
via Pau Gasol of Los Angeles Lakers no longer on trade block - ESPN Los Angeles.
So this is pretty simple, right? The Lakers let Gasol know they were serious about moving him and that he needs to get over it and learn to live in D'Antoni's system, Gasol did because he likes LA and the Lakers took him off the table. 
Of course, this doesn't change the bigger issue, which is that Gasol is injury prone and a shell of his former self. He's playing fine now, but there's a good chance he reverts back to struggling. And when he does, it's likely he blames D'Antoni again. The Lakers honestly would have been better off dealing him while his value was still high. 
Lakers checked in on Houston, which is determined to trade disgruntled center Omer Asik before Thursday. But nothing ever got serious

— Ramona Shelburne (@ramonashelburne) December 18, 2013
That probably would not have worked with the whole Dwight Howard deal, but maybe they could have gotten a three-way going. But for now, it's all rainbows and puppies in LA, and we can table the Gasol talk for now. 
Mirotic and Portis combined for 49 points as the Bulls won their fifth straight game, beating...

Gobert, who missed 11 games earlier this season with a knee injury, will have an MRI

Get all the latest scores, news and highlights from Friday's NBA games
Porzingis is questionable for Carmelo Anthony's return to MSG on Saturday

The Spurs and Rockets will renew their in-state rivalry on Friday night

Anthony will play at Madison Square Garden on Saturday for the first time since being trad...