Report: Pau Gasol to meet Thunder, Bulls, Warriors, maybe Lakers
Free-agent-to-be Pau Gasol will reportedly meet with several teams.
• 1 min read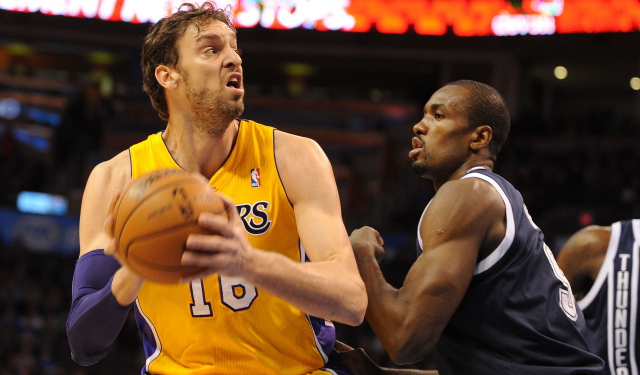 More Offseason Analysis: Coaching changes, news | Free Agency | Draft
Pau Gasol will meet with the Oklahoma City Thunder, Chicago Bulls and Golden State Warriors in free agency, according to the Los Angeles Times' Mike Bresnahan, who added that Gasol "might" talk with the Los Angeles Lakers, too. 
Gasol has been linked to several other teams. The New York Knicks are reportedly going to go after him, which would reunite the big man with Phil Jackson and Derek Fisher. The Dallas Mavericks are expected to make a pitch, too. Due to the presence of his brother, Marc, it has long been assumed the Memphis Grizzlies would be a possibility, but the re-signing of Zach Randolph might get in the way of that scenario. 
The 34-year-old Gasol has said repeatedly that the main factor for him will be winning, not money, and you can understand where he's coming from after the past couple of seasons with the Lakers. It then makes sense that he would want to talk to the Thunder, Bulls and Warriors -- he would be only a role player, but he could be the missing piece they need. At this stage of his career, he still has a lot to offer a lot offensively in situations like that.
Cuban acknowledged that tanking is 'brutal' and that he will no longer do that after this...

Cho has been the GM in Charlotte since 2011

Fergie: 'I'm a risk taker artistically, but clearly this rendition didn't strike the intended...
Victor Oladipo had a successful R&B album over the offseason and Jamie Foxx is a fan

Klay Thompson makes sure he stands out during All-Star Weekend

There's no shortage of moments to choose from