Report: Pau Gasol turned down 2-year, $20 million-plus Lakers deal
Pau Gasol reportedly is moving on after six-and-a-half seasons in Los Angeles.
• 1 min read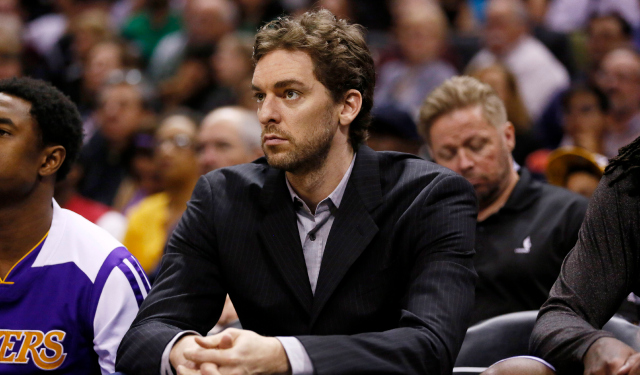 More Offseason Analysis: Coaching changes, news | Free Agency | Draft
Free agent Pau Gasol has turned down a two-year deal from the Los Angeles Lakers worth more than $10 million per season, according to Yahoo Sports' Adrian Wojnarowski, and he's likely going elsewhere after six-and-a-half-seasons in Los Angeles.
I'm very close to deciding. Thank you all for your interest and support! #FreeAgency

— Pau Gasol (@paugasol) July 11, 2014
The Lakers agreed to re-sign Nick Young and Jordan Hill on Friday, and they agreed to acquire Jeremy Lin from the Houston Rockets in a trade. Unless Carmelo Anthony joins the team, these moves likely will not lead to a huge jump in the standings next season, and the 34-year-old Gasol has spoken repeatedly about wanting to contend for a title.
If Phil can add Pau Gasol that would be huge addition for the Knicks. Keep hearing Bulls, Spurs & Thunder for Gasol but Knicks have a shot

— Frank Isola (@FisolaNYDN) July 11, 2014
The Spurs, Bulls and Thunder would give Gasol a great shot at winning, and if he went to New York he'd reunite with Phil Jackson and Derek Fisher. The big man isn't the player he once was, but he can still be a difference-maker on offense. It looks like he's willing to sacrifice money to return to the playoffs.
Oklahoma City has reportedly offered the MVP a five-year extension worth over $200 million

The big man was a big part of the Warriors' championship run last season

The Cavs jokes were out in full force after Golden State reportedly agreed to sign Antonius...
New York seems to be at the top of Irving's list of preferred destinations

Is it just a normal workout, or is LeBron continuing his recruiting efforts?

Chris Bosh answered on the spot about the LeBron James and Kyrie Irving situation