Report: Paul Pierce thinks he's done in Boston
Paul Pierce and his associates think he has played his last game as a Boston Celtic.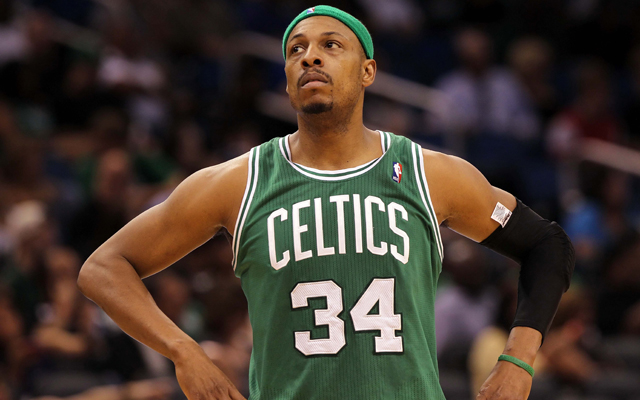 Via MassLive.com, CSN New England reports that Paul Pierce and those close to him believe he will not return as a Celtic next season: 
"I don't think they will (bring Pierce back)," Greg Dickerson said Sunday on CSNNE. "And I know that the company that Paul Pierce hangs around in, they do not believe -- and I don't think Paul Pierce believes -- that he is going to be brought back next year at $15 million. I know for a fact that people around Paul Pierce have pretty much resigned themselves to the fact that he's played his final game in a Boston Celtics uniform. Again, Paul wants to stay -- obviously for $15 million, but he wants to finish his career in a Celtics uniform."

The lone year remaining on Pierce's contract can be bought out for $5 million. Asked whether he believes the Celtics will trade Pierce or buy him out, Dickerson said: "One way or the other. Probably a buyout. More than likely a buyout."
Pierce hasn't said anything publicly except that he wants to return and that it's out of his hands. Moving Pierce would be the hardest decision that GM Danny Ainge has ever had to make and would set off a total rebuilding effort. Kevin Garnett would not want to stay under such circumstances.  The Celtics would finally have to start to rebuild their team, and that could be difficult. 
Getting good return on Pierce in a trade would be difficult, considering his age, contract at $15 million and what he's looking for. They could trade him to a rebuilding team that would buy him out, making him a free agent, however. Moving Garnett would be even more difficult with his no-trade clause. 
But Pierce hasn't indicated he wants to go; Garnett hasn't, either. And Ainge has repeatedly chosen loyalty and emotional attachment over the needs of the franchise to move on. So, despite this report, don't be suprised if they bring the band back for yet another concert next season. Free agency starts in the NBA with the moratorium that no one abides on July 1. 
McCollum hurled a clever insult at the French forward

Hosts Bill Reiter and Reid Forgrave are joined by Blazers guard CJ McCollum

Check back throughout the night for the latest updates from Monday's NBA games
Garnett has worked with Maker and says he is reminded of himself

It might be a good time to place a bet on the Boston Celtics

SportsLine's Mike McClure, a DFS pro with more than $1M in winnings, gives optimal lineup...