Report: Pelicans are set to offer Tyreke Evans a huge offer sheet
The New Orleans Pelicans are reportedly set to offer Sacramento Kings restricted free agent Tyreke Evans an offer sheet worth between $44 million to $50 million.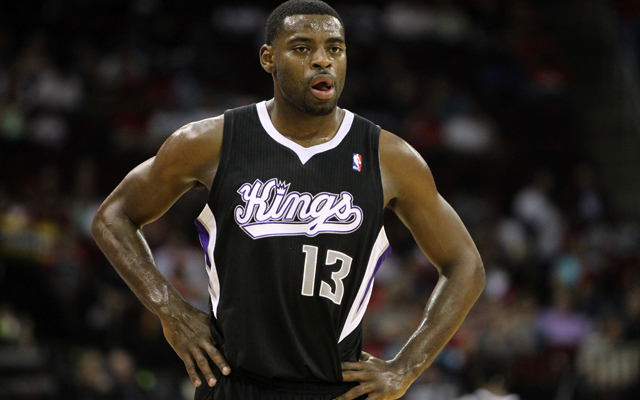 Sacramento Kings guard Tyreke Evans has struggled to find a position in the NBA since he joined the league in 2009. He was the Rookie of the Year for the 2009-10 season, when he was just the fourth rookie in history to average 20 points, five rebounds and five assists. But it was immediately unclear if he was a point guard, shooting guard or even a small forward as his career progressed.
After four up-and-down seasons for Evans, the Kings extended a qualifying offer to him this summer after passing on extending his contract last year. While the position that Evans should play is still in question, there is no question if a team might want him to be a big part of their organization. Sam Amick of USA Today Sports is reporting that the New Orleans Pelicans are prepared to offer Evans an offer sheet of four years and between $44 million to $48 million.
The New Orleans Pelicans made a four-year, $44 million offer to restricted free agent Tyreke Evans during their meeting on Sunday night, according to a person with knowledge of the situation.

The person spoke to USA TODAY Sports on the condition of anonymity because of the private nature of the talks. While the Sacramento Kings have the right to match any offer sheet that Evans eventually signs when the free agency moratorium lifts on July 10, it's unlikely they would match such a lucrative deal that, according to another person with knowledge of the offer, could be worth as much as $48 million with incentives.
Jason Jones of the Sacramento Bee is reporting the deal could be between $44 million and $50 million bason on incentives, but the exact number isn't known. David Aldridge of TNT reported the deal would be four years and $44 million. Regardless of what the final number is, the Pelicans are trying to keep his yearly salary high in an effort to thwart any inclination for the Kings to match the offer sheet and retain Evans.
To clear the cap space necessary for the Pelicans to be able to offer this kind of money, they will probably need to either trade Eric Gordon and his massive contract or waive the non-guaranteed deals of Robin Lopez, Terrel Harris and Lance Thomas. They would also probably need to either renounce the free-agent rights to Greivis Vasquez or move him in a sign-and-trade that doesn't bring in anything but draft picks or non-guaranteed salary that they can immediately dump.
This still raises so many questions for the Pelicans. If they're able to retain Gordon while signing Evans, how does the rotation of Evans, Gordon, Jrue Holiday and Austin Rivers shake out? You can play small ball, but will Evans willingly play the small forward position when he hasn't wanted to in the past? If Gordon moves on, can you be sure Holiday and Evans are able to play together when both guards need the ball in their hands?
Could Dell Demps be barking up the wrong tree in trying to make a big offer to Evans to lure him away from the Kings? Would it ruin the Pelicans' flexibility moving forward? And is Evans more like the dynamic player whom we saw in 2009-10 or the player we've seen trying to adjust over the past three years? If you have to clear all of those players just to have the room to sign Evans and the Kings match the offer sheet, how do you address your roster needs with newfound holes in the rotation?
Durant labeled the Cavs' situation as a regular problem in the NBA

James takes to Instagram for a better look at the Cavs' new Nike-made uniforms

Kevin Durant says he doesn't agree with what President Donald Trump agrees with
Evaluating where the future Hall of Famer might land up if he is freed from Chicago's rebuilding...

Adam Silver said his piece with the schedule out; we address that and what the slate looks...

The Hawks and Sharecare reportedly agreed to terms on a five-year deal