Report: Pelicans looking to trade Eric Gordon and Tyreke Evans
New Orleans reportedly looking to move two of their highest paid guards.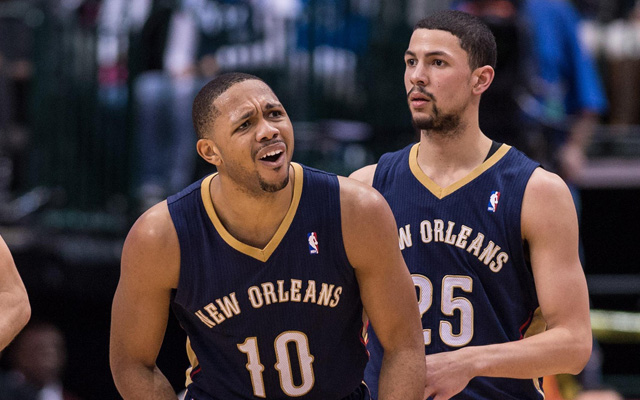 The Pelicans are having one of "those" seasons. The Timberwolves had one last year. Sometimes injuries just take your season away. They lost Ryan Anderson in preseason. Then Anthony Davis when Anderson came back, then Anderson again when Davis came back, then Jrue Holiday earlier this month, indefinitely. 
It's too much for any one team to sustain, which is a shame because they showed some good things when healthy. But the cost for this team far outweighs what they'll wind up pulling in wins-wise, and so the New York Daily News reports the team will look to move its other two imprortant guards in Eric Gordon and Tyreke Evans. 
The Pelicans signed Tyreke Evans this past summer to a four-year, $44 million free-agent deal and then added veteran PG Jrue Holiday via a trade with the Sixers to join Eric Gordon and Anthony Davis. But all the moves haven't exactly clicked. In fact, they've backfired, with New Orleans losing 13 of its last 17 games after starting out 11-10. The front office's take? Team execs are saying at least those are assets that can be moved. Davis and Holiday are the keepers.
The Pelicans just signed Evans to a four-year, $44 million deal this summer in a controversial decision. The idea was for him to operate as the Manu Ginobili for the Pels in a sixth-man role. But with injuries, it's now $11 milliion for a guard averaging 13 points on 41 percent shooting going nowhere. They've kept him in a reserve role as well after Holiday's injury, moving Brian Roberts into a starting role. 
Gordon's always been a complicated issue. He was traded from the Clippers in the Chris Paul deal and then sat out with knee issues. In free agency, he signed with the Suns, and asked the then-Hornets not to match the offer in restricted free agency. They did anyway. He sat out most of the following year with knee problems again. The addition of Jrue Holiday prompted him to express some more support for the club and to buy in. But with this situation, the Pelicans are paying a max contract (Gordon has nearly $47 million left on his deal including this season). 
Is it too early to bail on the plan, though? The Pelicans were a mess defensively even with all their pieces, but defensive execution takes time together to iron out cohesion issues. There's every reason to think that a fully-healthy Pelicans squad could be in contention for a playoff spot, be it this year or the next. But with market limitations on revenue, it makes some sense for the team to try and cut some costs. One trade that I continue to believe would help both teams involves the expiring contract of Danny Granger from the Pacers. The Pelicans could get some cap relief and another forward to pair off the bench with Anthony Davis.
Finding a deal for the two payers could be tough, even in an active trade market, considering the money involved.But both players can add to a good team. We'll see whether the Pelicans pull the plug on the experiment after just a year. 
Jeremy Lin is out for the season after only one game

Hayward is expected to make a full recovery, but don't expect to see him on the court this...

Well, Suns fans ... it can only go up from here
Teague no longer plays the game, however, because he's mad about his rating

Our NBA scribes break down what we've learned from the first two nights

Imagine if the Orlando rookie ripped off his warmups and stepped on to the court topless