Report: Perry Jones III gets medical red-flag for knee
Baylor forward Perry Jones III, a 2012 NBA Draft prospect, reportedly has a knee problem that could require surgery.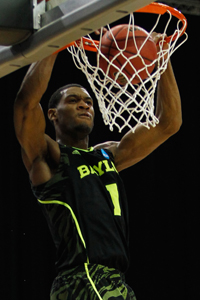 Perry Jones III could need knee surgery.
(Getty Images)
Bad news, Baylor Bear.
Perry Jones III, a 6-foot-11 forward who spent two seasons at Baylor before declaring for the 2012 NBA Draft, reportedly has a knee problem that could alter his Draft stock and eventually require surgery.
Multiple league sources say that NBA team doctors are concerned about a meniscus issue in Baylor forward Perry Jones III's knee. While opinions vary among NBA doctors on the ramifications of the issue, some teams feel that the knee could be an issue down the road and at some point in the future require surgery.
Without further details, it's difficult to know how to handicap this. Jones is currently projected to be drafted in the middle of the first round. How far he falls on Thursday night could very well reflect the nature and seriousness of the injury.
Assuming that he is only dealing with a meniscus problem, this isn't catastrophic, even if it requires surgery. Meniscus issues generally require only a minor, arthroscopic clean-up procedure that doesn't carry with it an extended rehabilitation timetable. 
Jones, 20, averaged 14.0 points and 7.7 rebounds per game last season.
Last week, word surfaced that another 2012 first round pick, Ohio State forward Jared Sullinger, had been medically red-flagged with a back problem that could require surgery.
Right before Wiggins hit his shot, Carmelo Anthony hit a 3 to put the Thunder in front

The Suns firing Earl Watson three games into season is second-quickest firing in NBA histo...

Bledsoe tweeted, "I Dont wanna be here"
Giannis had his hand on McCollum's hip when he poked the ball away

Teodosic had to leave the Clippers' game Saturday night against the Suns

Irving said recently that he does not regret the profane outburst