Report: Phil Jackson is ready to go back to work
Phil Jackson is reportedly ready to go back to work in some capacity, whether as a front office official or a coach.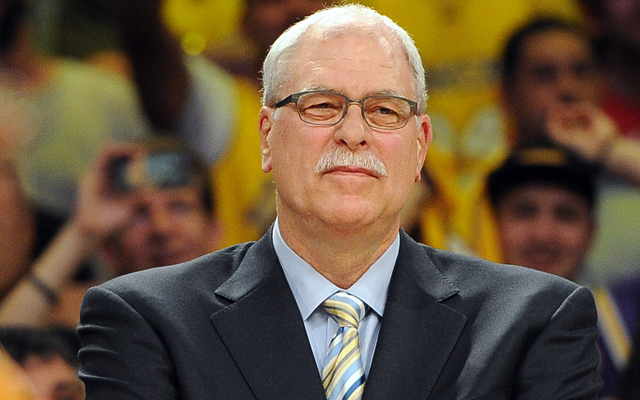 ESPN reports that former Bulls and Lakers legendary coach Phil Jackson is ready to end his retirement and go back to work, whether it's on the sideline or in a front office position. From ESPN:
But sources told ESPN.com this week that Jackson is "itching" to go back to work after a long spell to recharge since leaving the Los Angeles Lakers' bench following the 2010-11 season.

Sources stressed that there is no specific opportunity in play yet for Jackson, who resisted coaching overtures from the Brooklyn Nets earlier this season and told longtime confidant Charley Rosen in January in a SheridanHoops.com story that he "has no intention of ever coaching again."

But NBA coaching sources say that stance will not dissuade teams with openings from approaching Jackson this offseason to gauge his interest, with the Nets and Cleveland Cavaliers -- who interviewed Jackson in 2005 and are known to be contemplating a coaching change -- potentially at the top of the list.

What has Jackson really intrigued, sources say, is the opportunity to oversee an organization in the patriarchal style of Pat Riley with the Miami Heat or in a role similar to that previously held by Larry Bird with the Indiana Pacers.
via Phil Jackson 'itching' to return to NBA as either coach or executive, sources say - ESPN Los Angeles.
Jackson was considered the "leading candidate" to replace Mike Brown with the Lakers before Lakers owner Jim Buss pulled the rug out and went with Mike D'Antoni, and the Nets had Jackson at the top of their list after firing Avery Johnson before deciding to play the year out with P.J. Carlesimo which has resulted in a top-four seed in their first season in Brooklyn.
Jackson has been doing the promotional rounds recently, starting a Twitter account and doing more media in advance of his new book coming out. So this could be tied into that, to increase brand awareness. But then, few have expected Jackson to be done, even at age 67.
The Nets provide the best opportunity to come in and have wide-ranging powers. GM Billy King has been Mikhail Prokhorov's man in the rebuild, but there's a way to give Jackson president powers while keeping King as the point man on deals. It would be interesting and innovative to see Jackson as part-time coach, full-time president, without having to do the actual negotiating. But if anyone's willing to make exceptions and put the money together for a part-time coaching position for Jackson so he doesn't have to travel with his health issues, it's the devil-may-spend-er Prokhorov.
And then of course, there's the elephant in the room. If the Lakers miss the playoffs or get destroyed in the first round, would Jim Buss go back and retract his hard feelings towards Jackson, who will be his brother-in-law soon? Could Jackson return to coach the Lakers, an actually healthy team, in 2013-14?
As always, the attention is going to surround Jackson, just the way he tends to seem like he likes it.  
Wade is having a rough start to his first season playing in Cleveland

Greek Freak scores career-high 44 points and reaches scary level to finish the game

It was an ugly finish as the Warriors fell to 1-2 on the season -- both Curry and Kevin Durant...
Mirotic was hospitalized with facial fractures after an altercation with Portis during pra...

Irving had some choice words for a fan who heckled him in Philadelphia

Several teams were reportedly interested in Nelson after he was waived by the Nuggets