Report: Phil Jackson wants a Carmelo discount, but would offer max
Knicks president Phil Jackson has said all along he would like Carmelo Anthony to take a pay cut, but he'd reportedly offer him a max contract if necessary.
• 2 min read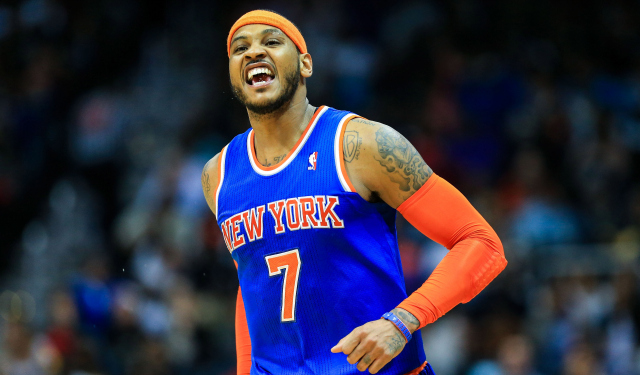 More Offseason Analysis: Coaching changes, news | Free Agency | Draft
New York Knicks president Phil Jackson has said that he hopes Carmelo Anthony is a "man of his word," that he wants the star forward to give the New York Knicks a discount and stay in the city where he so badly wanted to play three years ago. If Anthony is unwilling to take a pay cut, though, Jackson would offer him a maximum contract, according to Yahoo Sports' Marc Spears:
The Knicks can offer Anthony the longest contract and the most money at five years and $130 million compared to the four years and about $96 million Anthony would earn if he were to leave for another team. Jackson has said that he asked Anthony to potentially take a pay cut to remain with the Knicks. But the source also said Jackson only talked to Anthony about the concept of taking a pay cut and that Jackson said he would be willing to offer a maximum contract if that is what it took to re-sign Anthony. The source added that Anthony, 30, viewed opting in to the final year of his contract for $23.3 million next season without signing an extension as risky at his age.

Jackson was evasive when asked by reporters Thursday night if he would be willing to complete a sign-and-trade with Anthony if he opts to go elsewhere. The source added that the Knicks and Anthony have had no discussions about the possibility of a sign-and-trade.
Five years, $130 million is a hell of a lot to tie up in the 30-year-old Anthony considering how far away the Knicks are from contention. He is one of the best scorers in the league and far and away the franchise's best player, but there is an argument to made that a divorce would benefit both sides, with a sign-and-trade bringing back prospects and picks being the best possible scenario for New York. Jackson didn't want to get into that on draft night, but one would think he'd at least listen to offers if it got to the point where Anthony decides he wants to go elsewhere.
The source said Anthony loves New York and playing for the Knicks, but there are still questions surrounding the franchise. The main variables: the direction of first-year Knicks president Phil Jackson and first-year coach Derek Fisher, and how long it will take the Knicks to become a winner again. Anthony yearns to be in a winning situation now and knows he would have to be patient if he stays with the Knicks, the source said.
Anthony wants to make a decision about his future by the second week of July, according to Yahoo Sports. At the beginning of the free-agency period, he is expected to take meetings with the Houston Rockets, Chicago Bulls, Dallas Mavericks and Los Angeles Lakers in addition to the Knicks. The first three teams on the that list, at the very least, can give him better a better chance to compete in the short-term than New York. The Knicks, though, can give him more money. It's interesting that Jackson would reportedly be prepared to do so.
Is this rock bottom for the Cavaliers because it sure feels like it is

Wade, as he's done so many times in his career, threw it up to LeBron for the thunderous f...

The Warriors coach added there should be no shame in being picked last since everyone's an...
We've got all the scores, highlights and news from all of Saturday's games

The two teams have reportedly not had any substantial discussions to this point

Oladipo may be getting most of the shine, but this second-year big man has been phenomenal...