Report: Pistons could be targeting Lionel Hollins as replacement
The Detroit Pistons are reportedly looking at Lionel Hollins as their midseason replacement after firing Maurice Cheeks.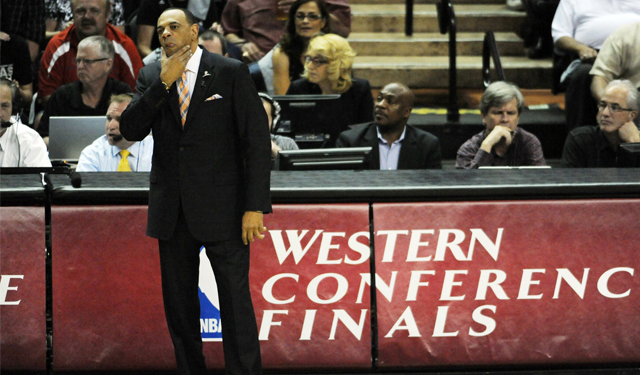 With the Detroit Pistons in search of a new coach after the news that Maurice Cheeks has been fired, reports are already surfacing that they could be targeting someone with a history of taking over midseason. Marc Stein of ESPN.com is reporting that former Memphis Grizzlies' coach Lionel Hollins is a "prime target" for the Pistons.
Coaching sources say Lionel Hollins is a prime target for DET and timing of Cheeks ouster due in part to fact Hollins currently unattached

— Marc Stein (@ESPNSteinLine) February 9, 2014
Doesn't mean Hollins is lock to take job, if offered, but Cheeks was first NBA coach fired this season, so DET searching unopposed right now

— Marc Stein (@ESPNSteinLine) February 9, 2014
On three separate occassions in his coaching career, Hollins has taken over a team in the middle of the season. He did it during the 1999-00 season when Brian Hill was fired from the Vancouver Grizzlies after 22 games. He did it briefly in the 2004-05 season when he took over for four games between the firing of Hubie Brown and the hiring of Mike Fratello in Memphis. Then he did it one more time for the Grizzlies in the 2008-09 season after Marc Iavaroni was fired in-season. 
After taking over in 08-09, Hollins finally remained the coach for the next four seasons. His last season as a coach was the 2012-13 season when he led the Grizzlies to a franchise best 56 wins and a trip to the Western Conference finals. He has a career coaching record of 214-201 in the regular season and 18-17 in the playoffs.
The awards are voted on by peers in the NBA and adds to Russ' league MVP award he won this...

Minnesota is facing even bigger expectations headed into next season, and they'll be difficult...

When the NBA MVP odds came out, it got us thinking: Will stat-compiler Russell Westbrook win...
Durant labeled the Cavs' situation as a regular problem in the NBA

James takes to Instagram for a better look at the Cavs' new Nike-made uniforms

Kevin Durant says he doesn't agree with what President Donald Trump agrees with