Report: Pistons offering Stuckey and Villanueva for Rudy Gay
The Toronto Raptors and Detroit Pistons are reportedly talking a trade involving Rudy Gay.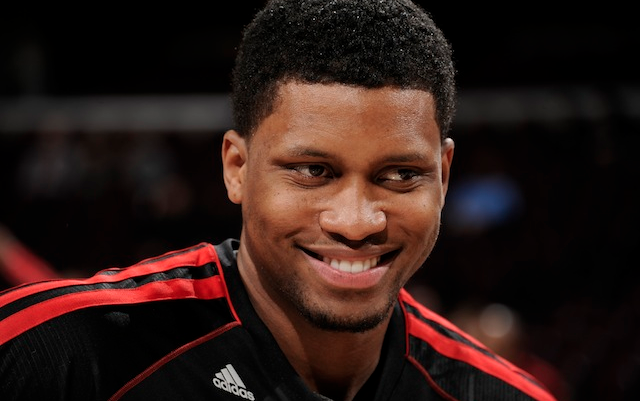 The trade magician Masai Ujiri is trying to pull off another one of his tricks. 
According to ESPN.com, the Raptors and Pistons are discussing a trade that would send Rudy Gay to the Motor City. 
In the proposed deal, the Pistons are offering the expiring deals of Rodney Stuckey and Charlie Villanueva to Toronto for Rudy Gay. 
The Raptors of course acquired Gay midseason last year from Memphis in a blockbuster three-team deal also involving the Pistons. 
Stuckey and Villanueva are both on the books for $8.5 million next season, with Gay set to earn $37 million over the next two years. The Raptors, recently under new management, are looking to possibly wipe the floor clean and begin again. Just a few days ago, the Raptors agreed to a deal sending Andrea Bargnani to New York for Steve Novak, Marcus Camby and some picks. 
With a young core in place, the Raptors are hunting more assets and future cap space. Offloading Gay would certainly help with that. 
The Pistons have been searching for some kind of relevancy for some time now and have been linked to other big names like Josh Smith and Andre Iguodala this free agency period. They have around $20 million in cap space and are looking to make a splash. 
Gay certainly would be an upgrade on their roster, but it feels like another likely step to nowhere for Joe Dumars and the Pistons. The team hasn't been relevant the past few seasons and while making a playoff push is step one, maintaining assets, cap space and talent is often the best path to success anyway. 
Jordan Bell had himself a night against Portland

The younger Ball brothers are heading to BC Prienai, but that could spell trouble

Not many games, but still plenty of action and intrigue Monday in the Association
SportsLine's advanced computer model simulated Tuesday night's Lakers-Knicks game 10,000 t...

The Reno Aces are concerned about the new WNBA franchise stealing their thunder

Hinkie parted ways with the 76ers in 2016 after drastically changing the direction of the...