Report: Pistons still interested in Rondo despite signing Jennings
The Detroit Pistons are reportedly still interested in trading for point guard Rajon Rondo from the Celtics and could use Brandon Jennings as bait.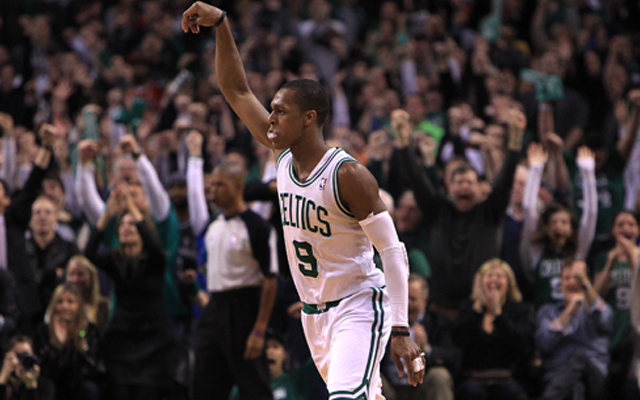 The Boston Globe reports that despite the Pistons' sign-and-trade acquisition of Brandon Jennings, they still very much have their eye on Celtics guard Rajon Rondo. 
Just because the Pistons acquired Brandon Jennings in a sign-and-trade deal with the Bucks doesn't mean they've lost interest in Rajon Rondo. In fact, they could eventually use Jennings as a trade chip and seek to acquire Rondo. There are going to be several interested parties in Rondo, and that number could increase when he shows he's fully recovered from anterior cruciate ligament surgery.
via Delonte West wants another NBA opportunity - Sports - The Boston Globe.
The Pistons got Jennings on a little bit of a steal ($8 million per year for a starting-caliber point guard coming off his rookie contract is pretty good), so the contract is movable. If he shows a good first half of the season, Boston might be intrigued. The trick with Boston is that they're not looking to build around a player like Jennings, they're looking to eventually move him when the next superstar or superstars come available, the same way they put together the 2008 Big 3. 
So Jennings could look much better at the trade deadline then he does now. Similarly, Rondo could look like more of a bargain if he struggles out of the gate upon his return from ACL surgery, or if he looks fine but the Celtics are an outright disaster. 
It's an interesting idea, and Rondo might be a better fit for the Pistons as a pure creator. Much of it will hinge on what Jennings does, coming off a free agency period where he has to feel disrespected. 
James' support continues his trend of social activism on social media

The newly-acquired All-Star thinks the addition of Anthony boosts the Thunder in the NBA's...

The Knicks were asking for the house in discussions for Carmelo Anthony
Steve Kerr has given his response to Donald Trump in writing

Trump rescinded Curry's invitation to the White House after Curry said he wasn't interested...

Silver said he was hoping Warriors would get chance to share their views directly with the...