Report: Pistons unlikely to make moves at trade deadline
The Pistons reportedly won't be wheeling and dealing at the deadline.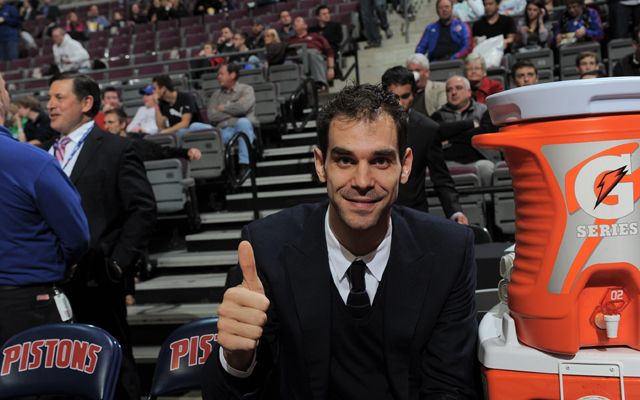 'We're good, thanks.' 
(Getty Images)
After a half-decade of stumbling through the post-championship era, slowly dismantling their key players from a long run of conference championship appearances, the Pistons have some light at the end of the tunnel. 
Andre Drummond and Greg Monroe provide a frontcourt combination that could be one of the most fomidable in the league within three years. Brandon Knight continues to develop the skills he needs to be a scoring point guard in the league. They finally traded Tayshaun Prince and his sizeable contract, getting Jose Calderon on an expiring deal in return to give them a pure point. 
But they still have so far to go. Rodney Stuckey and Will Bynum seem unnecessary pieces short- or long-term. Jonas Jerebko has been crushed from the rotation. So are the Pistons going to keep shifting this roster around? From the Detroit Free Press: 
So with that established, two sources said this past week that the Pistons likely are done with major moves until the summer.

One source even said: "You have already had the main course. You aren't getting seconds."

The main course obviously was the Prince-Calderon deal.

But the source added: "You might get dessert."
(via Vince Ellis: Pistons shook up roster with Tayshaun Prince-Jose Calderon deal | Detroit Pistons | Detroit Free Press | freep.com)
I get nervous whenever executives spread information on not doing anything at the deadline. This is Smokescreen Week in America, after all. But the Pistons don't have anything that can net huge value, and they need to figure out exactly what they have. Is Monroe-Drummond a tandem to build around or do they need to choose one? Can they get Calderon back at a decent price or will they get outspent? There's a lot to suss out. 
If the right deal comes along, the Pistons will pull the trigger without hesitation. Just as they won't do something to do something, they also won't refrain from a deal just to avoid one. 
The forecast that initially had been for a very busy trade deadline seems to be calming a bit. It's just hard to tell if this is the eye of the storm or clearer skies rolling in.
A look at who came out ahead after Tuesday's megadeal swaps the point guards on the East's...

How the addition of IT changes the Cavs and where they go this summer depending on LeBron's...

Ainge said that he expects the start of Thomas' season to be delayed, but he'll be 'fine'...
The NBA MVP odds have shifted quite a bit following the blockbuster Kyrie Irving - Isaiah Thomas...

It's debatable whether Boston gets better right away with Irving, but the future is definitely...

Kyrie Irving was set to grace the cover of this year's video game in a Cavs jersey -- whoo...