Report: Pistons will match a max-offer sheet for Greg Monroe
The Pistons have some weird decision making stuff going on up top.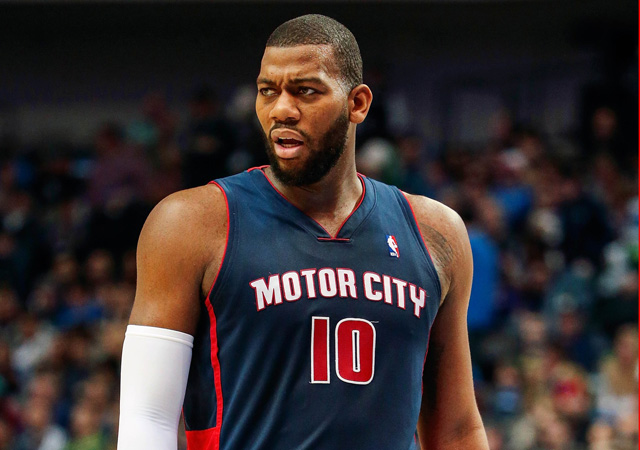 NBA.com reports that when Pistons forward Greg Monroe, who has seen his role diminished in the Pistons' semi-star-studded malaise this year, hits free agency, his agent expects him to get the max. 
The problem, as the Pistons knew last fall, is that Monroe's agent is David Falk. He has gotten the price he said he'd get for his clients for two decades -- and he says the price for Monroe will be a max contract.

Two years ago, when a big deal for Indiana's Roy Hibbert, a Falk client, seemed doubtful, Falk created a one-team market. Portland dropped a four-year, $58 million sheet on Indiana for Hibbert. The Pacers matched, and are no doubt happy they did, but Falk proved he can still find suitors when he has to for his guys.

...

Yet the Pistons aren't going to move Monroe unless it's a blockbuster deal. Offering just expiring contracts won't get it done. The hope in Detroit is that Monroe's situation is resolved in similar fashion to how Oklahoma City eventually worked out a four-year, $49 million contract with Serge Ibaka before he hit free agency. (The Thunder had the obvious advantage of having Kevin Durant and Russell Westbrook as lures to play with through the meat of Ibaka's career.)

If Falk finds a team ready to give Monroe the max or something close to it, expect Detroit to match the offer sheet and worry about the money later. At worst, you'd have a 24-year-old, 6-foot-10 power forward under contract that you'd then be able to shop. The Pistons had to lose a lot to wind up with top-10 picks in three straight Drafts. Those assets mean more to them than they probably do to others.
via Eight talented players that may feel trade deadline rumblings | NBA.com.
Hibbert still gets (unwarranted) criticism for being a max player despite his defensive impact, just as Monroe will face criticism for a big-money deal due to his defensive deficiencies and in spite of being a terrific offensive weapon. I think it's difficult to look at the player he was his first three years in the league and disregard it when the Pistons as a whole are a mess. Josh Smith and Brandon Jennings are launching long twos, that leads to long rebounds. Monroe hasn't played as well, but his skillset remains intact and despite his defensive issues, he's a willing player who gives effort. You can mold those guys. 
Now, what's interesting here is the Pistons' intent to keep him regardless of contract. This disturbs me. Let's go through a list of moves and see if they add up that decision. 
1. Pistons draft Monroe, start to plan for the future to build team around him. (Got it, that makes sense.)
2. Pistons draft Andre Drummond, who turns out to be a mega-beast.  (OK, cool, you've got two great inside players. Neat!)
3. Pistons don't play Drummond and Monroe together hardly at all during Drummond's rookie season. (Well, that's unfortunate, but that's just a coaching issue, right?)
4. Pistons fire Lawrence Frank, hire Mo Cheeks, who will eventually start Drummond and Monroe. (Hurray!)
5. Pistons sign Josh Smith to play small forward. (Uh-oh. OK, this could work as long as Josh doesn't launch a ton of jumpers)
6. Josh Smith launches a metric ton of jumpers. (Welp.)
7. Pistons start to play Monroe and to a lesser extend Drummond less and less in fourth quarters. (Well, if you have to switch things up, then...)
8. The Pistons become arguably the worst fourth-quarter team in the league. (Welp 2.0.) 
9. The Pistons send out signals starting in about October that they're open to a trade of Monroe on account of not re-signing him. Despite his age, talent, and relative lack of culpability in the disaster of their season, he's the one who gets signaled as the movable component. 
10. They let it be known that they intend to match any offer, even a max contract, for him in free agency. 
...Do you see why everyone's kind of confused about what the hell the Pistons are doing? 
Heck, here's this from Grantland.com, which indicates that the team doesn't belive he's a max player. 
The Pistons are right in their belief that Monroe is not worthy of a max contract, not even of the smaller "max" players get after their rookie deals expire. A big man who is a net-minus defender and lacks shooting range is a tricky piece that needs just the right context in order to thrive. He's like a plant with picky climate requirements. The Pistons should hold the line, even though they — and the entire NBA world — know Monroe's agent, David Falk, has made a career of finding the one suitor willing to make that max bid. Nearly a dozen teams will have max-level cap space, or something close to it, this summer.
via Taking the 'Mo' Out of Motown: Cheeks Couldn't Wrangle Detroit's Three-Headed Monster «.
So they're leaking out every side of the ship that Monroe is tradeable, and not worth the max, but NBA.com reports they'll match if it comes to that. 
Welcome to the 2014 Pistons, an enigma wrapped in a puzzle wrapped in a meth-addled marmot on fire.
Monroe is averaging 14.3 points and 8.7 rebounds on 52 percent shooting this season for Detroit. 
Kris Dunn somehow took a chunk of the Bulls court out with his teeth, but didn't lose any in...

The fallout from the Rockets-Clippers tussle continues; no Clippers were disciplined

DH12 is picked for free throws after a teammate gets ejected. He makes both, and lets Scott...
Bell was injured defending a Robin Lopez dunk and had to be taken off the floor in a wheel...

Trevor Ariza and Gerald Green are reportedly both suspended two games

We've got all the scores, highlights and news from Wednesday night