Report: Rajon Rondo 'extremely unlikely' to stay in Dallas
Rajon Rondo might have a rather short stint with the Mavs.
• 3 min read
Dallas Mavericks point guard Rajon Rondo had a bit of a blow-up with head coach Rick Carlisle and was suspended for Wednesday's game after another argument in the locker room. This was an example of an organization standing behind its coach, and while Dirk Nowitzki and Tyson Chandler both have suggested that this could bring the group closer together, ESPN's Tim McMahon reported that there's not much of a chance that Rondo -- an unrestricted free agent this coming summer -- will remain a Maverick long-term:
The root of the Rondo-Carlisle crisis is a simmering disagreement about whether the Mavs were best off with the genius former Coach of the Year or brilliant four-time All-Star point guard calling the majority of the plays. 

Rondo, a nine-year veteran with one of the highest basketball IQs in the league, believes that's a big part of his job as a point guard. Carlisle, one of the NBA's best offensive minds, doesn't want to hand the keys of his sports car over to a guy he just met. 

It's similar to the friction between Carlisle and future Hall of Fame point guard Jason Kidd during their first season together, except they never had "SportsCenter"-leading shouting matches. Carlisle ceded control to Kidd in midseason, and that duo played prominent roles in the Mavs' title run a few years later. 

Could history repeat itself? Don't hold your breath. The reality is Rondo's run with the Mavs is extremely unlikely to extend past this season. 
This has deteriorated rather quickly. Dallas acquired Rondo in December, and owner Mark Cuban said publicly that the plan wasn't to make him a rental. The starting five of Rondo, Monta Ellis, Chandler Parsons, Nowitzki and Chandler were supposed to keep the Mavs contenders for the next few seasons. They gave up a first-round pick, a second-round pick and three role players for him.
Carlisle reiterated to reporters that Rondo is a significant part of what Dallas is trying to do, and he said it's on him to utilize his point guard's skills properly. From ESPN:
"I need to say this very clearly: He is an extremely important part of our team," Carlisle said. "Our efforts to get to the highest possible level largely hinge on him playing and playing well with him. He needs to play well with us, and we need to play well with him. It's a two-way street. 

"The incident last night was born in large part out of poor communication between him and I. That's on both of us. We had a long talk about the situation today, and we both agreed that we need to communicate more frequently. 

"We need to work on the solution for making his stint as a Dallas Maverick the most successful one possible. We're looking at 23 games here. Right now, this is a critical time for us." 
His "stint" with the team? That particular choice of words might have been unintentional, but in the context of what McMahon is reporting, it doesn't sound great. 
To be clear: Rondo hasn't been a disaster for the Mavericks. He's helped their defense tremendously, while the offense has suffered. The issue, in as simple terms as possible: Dallas, with its pristine ball movement and spacing, generally performs better when Carlisle isn't making calls from the sideline. It's harder to run a flow offense with a non-shooter like Rondo, though. This means Carlisle is trying to exert more control when he's on the court, which doesn't necessarily sit well with the former All-Star who has famously clashed with coaches before.
In Sports Illustrated's Lee Jenkins' 2013 Rondo profile, Celtics president Danny Ainge calls him the smartest and most stubborn man in the room. It's also revealed that Rondo will sometimes run a play for an easy basket early in a game, then refuse to use it again until the fourth quarter because he's "saving that one." To watch him is to know that he's a unique basketball mind and sees things others don't, which can be a beautiful thing. It can also be a frustrating thing if you're a coach. 
There should still be time to salvage this situation. The Mavs are fifth in the West, and both sides must be motivated to figure things out. Rondo has historically elevated his game in the playoffs, so that'll be when we can really judge the trade. What happens in the postseason will also go a long way toward determining whether or not this partnership has a future.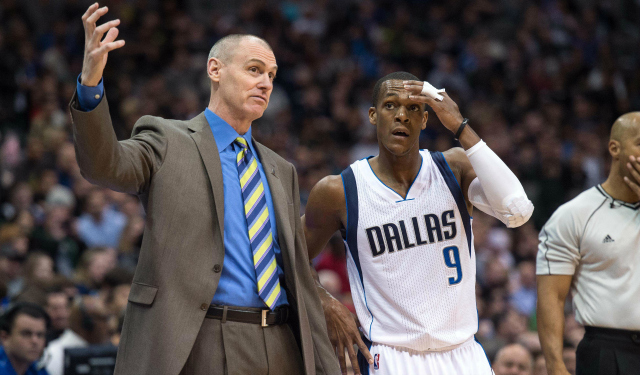 The Blazers guard was a guest on the Sirius XM radio show 'Sway in the Morning'

L.A. reached a three-year jersey ad patch deal with Wish, a San Francisco-based e-commerce...

John Paxson doesn't intend to buy Wade out without some sort of compromise from the 3-time...
Lonzo's signature shoes have a sleek, all-black design and will be available in November

Durant recently apologized for tweets criticizing the Thunder and Billy Donovan

Jackson says he has 'no respect' for Durant after KD created fake Twitter pages