Report: Rajon Rondo open to working with Brad Stevens
Rajon Rondo is reportedly open to working with Brad Stevens. But will the pairing work out for Boston long-term?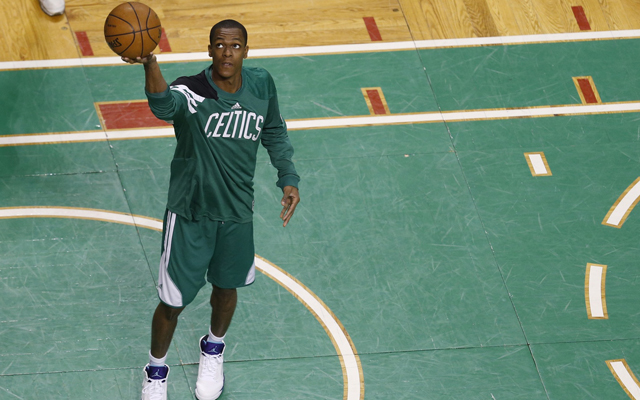 When the surprise announcement came that the Boston Celtics had hired Brad Stevens to be their next heard coach, most were enthused by the hire. Even folks who are normally skeptical about college hires recognize that Stevens is spoken of glowingly by just about every human being who's had contact with him. 
But the big question was, how would Rajon Rondo react to the hire?
Rondo had developed a close relationship with Doc Rivers that came with the same kind of frustrations any such relationship is going to have. They drove each other nuts sometimes, but they always had one another's back. Now that's gone, along with Rondo's "big brother" in Kevin Garnett and Paul Pierce. He's alone, facing a rebuilding situation, still under contract (and underpaid) and recovering from an ACL injury. 
How will he react to the news a 36-year-old college coach is his new coach?
The Boston Globe reports that at the very least, Rondo is open to the situation: 
"Well a source close to Rondo who has talked with the guard since the Stevens hiring said Rondo is looking at the move with a "completely open mind."

Rondo makes his offseason home in Louisville, Ky., and its uncertain when or if Stevens will meet or speak with Rondo before training camp. Stevens was introduced Friday morning at a news conference in Waltham, Mass., and fielded his share of Rondo questions.

"They both have a lot to prove," the source said of Stevens and Rondo. "Might as well do it together."
via Source close to Rondo says PG looks at Stevens hire with "completely open mind" -Celtics blog - Boston Globe basketball news.
Stevens did say he called Rondo this week. From our own Matt Norlander: 
The one big question that hangs for Stevens and the Celtics related to all-star point guard Rajon Rondo. Theres uncertainty -- or public speculation -- as to whether Rondo will want to play in Boston long-term. Stevens addressed that situation on Friday.

"There is no bigger fan of Rajon Rondo than me," he said when asked how hed handle the enigmatic and talented Celtics guard whod reportedly been in past clashes with Rivers. Stevens added hed already talked to Rondo on the phone and has plans to meet with him soon.
via Celtics introduce Brad Stevens as head coach - CBSSports.com.
So the bridge has started to be built between the two. Rondo's got an "open mind" which is a long way away from "I'm totally excited and he and I are going to be best buds." But it's a start. Rondo is notoriously temperamental, often at times drawing the ire of Doc Rivers. But he's also a singular talent, and can still be the true core of the Celctics' rebuild. Whether he will be or not could be affected by his relationship with Danny Ainge's bold choice for his hand-picked next coach. 
T.J. Warren gets paid big money by the Suns in a four-year deal

Melo didn't hold back on his feelings about President Donald Trump and urges for help in Puerto...

The Wizards star says the NFL won't change until important players like Brady and Rodgers speak...
Popovich spoke at length about sports, race, culture, and politics during Spurs media day on...

Carmelo Anthony finds the idea of coming off the bench very funny

Several teams spoke about Trump's recent comments about protests and the Warriors' White House...