Report: Raptors 'closing in on' deal with Greivis Vasquez
Toronto is reportedly close to agreeing to terms with restricted free agent point guard Greivis Vasquez.
• 1 min read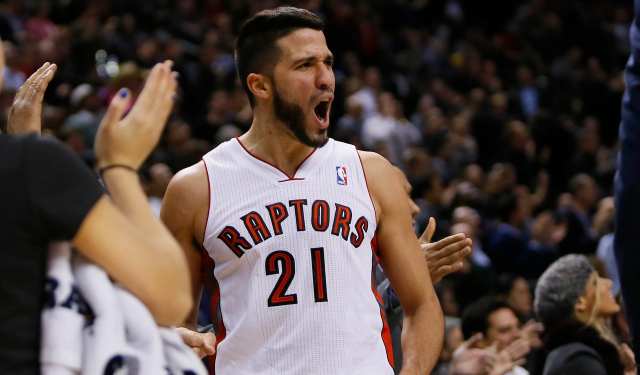 More Offseason Analysis: Coaching changes, news | Free Agency | Draft
The Toronto Raptors are "closing in on a deal" with restricted free agent Greivis Vasquez, according to Ryan Wolstat of the Toronto Sun. The point guard averaged 9.5 points and 3.7 assists in 21.5 minutes per game in 61 appearances with Toronto last season, making 39 percent of his three-pointers.
Vasquez, acquired from Sacramento in a season-altering trade in December, provided the Raptors with solid production behind Kyle Lowry. Two-point-guard lineups featuring the two of them were effective as well.
General manager Masai Ujiri appears to be keeping the team together, agreeing to terms with Lowry on Wednesday and Patrick Patterson, also acquired in that deal with Kings, on Friday. More than anyone else on the roster, Vasquez was vocal about continuity and wanting to return.
"I really want to be back," Vasquez said at his season-ending media availability in May. "I truly love this city. I love our fans, my family loves Canada, my kids love school, it would be heartbreaking if I don't come back. 'Cause I'm an emotional guy, so I really embrace, I'm really committed to the team, to the city, to this franchise. It was a very special year."
It'll be interesting to see how much the Raptors have to pay him. Vasquez has been a starter before, but is signing up to be a backup. That means a backup's salary. As far as reserve floor generals go, he's about as good as it gets, and given his history of ankle problems, a lower minute load would probably be best for him long-term.
Assuming this gets done soon, Ujiri won't be left with a lot of financial flexibility or roster spots this summer. There's always the possibility of a surprising trade, but at this early stage it looks like Toronto will be relying on internal improvement next season. If you ask Vasquez, he'd be fine with that, and he'd probably tell you his friend Kevin Durant is coming to the Raptors in 2016.
San Antonio's track record speaks for itself, but they've made a few puzzling moves this o...

The Kings top pick thinks your burgers are trash, California

Popovich added that Trump is 'unfit intellectually, emotionally, and psychologically' to be...
Larry Hartstein turned in a massive profit to close last season and locked in a pick for R...

Too many stars and not enough spots on the upcoming season's All-NBA teams

It appears Philadelphia will continue to be extremely cautious with its potential franchise...