Report: Raptors don't want to shell out to re-sign Kyle Lowry
Toronto doesn't plan to match any high money offers for explosive free agent point guard, even if they won't trade him before deadline.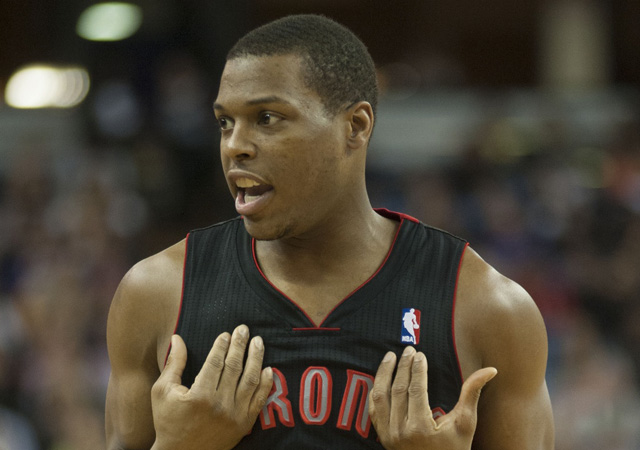 NBA.com reports that as the Raptors remain stuck between a playoff spot and rebuilding, they are certain of one thing. Trade Kyle Lowry, don't trade Kyle Lowry, they're not going to shell out for him this summer. 
Now it appears the Raptors are less likely than more likely to trade Lowry by the deadline. If a team overwhelmed them with an offer, they'd most assuredly listen, but the likelihood is growing that Lowry will finish the season in Toronto. The chance of a division championship is too enticing.

That doesn't mean the Raptors are going to pay him in the summer.

The fear of investing heavily, only to find that this season is fool's gold, a contract drive by a player with a history of injuries, is likely too great. The best guess is that Lowry plays it out, and, depending on how he and the Raptors do down the stretch, he'll be in the driver's seat in the summer. With so many teams having young point guards, though, how much will he get on the open market? (Agents matter; Lowry has Andy Miller, well-respected around the league by general managers, who has the reputation of making fair deals for his clients.)
via Seven talented players that may feel trade deadline rumblings | NBA.com.
Lowry has been targeted enough in trade talks, by everyone from New York to Golden State, that someone's going to shell out for him. Even if they had to trade to make room for him, Lowry's going to a hot commodity. He's a bulldog defender, tough, strong, quick and has improved his shooting. His leadership in Toronto has shown through and despite being a monster pain in the backside for his coaches and more than a handful with the media, his play on court is what counts, and it counts for a lot. 
Which, again, makes it weird that Toronto's not going to trade him. He holds so much value and teams want him now. I know the recent winning by Toronto is nice and all, but they're not actually going anywhere. Why waste the potetial windfall from a deal just so you can get obliterated in the second round? 
Or maybe they'll make a magical run to the championship and there will be movies made about them and they'll have to get a huge star to play Kyle Lowry. Anyway, Lowry's averaging 16.6 points, 4.4 rebounds and 7.4 assists per game this season for Toronto. 
Our advanced computer model simulated Saturday's Thunder-Cavs game 10,000 times

The Jazz are reportedly looking into trading Rodney Hood before the Feb. 8 NBA Trade Deadl...

The Cavaliers are ready to reset everything if they have to. Their interest in Lou Williams...
It sounds like the Cavaliers are going to be active before the NBA trade deadline on Feb....

We've got all the scores, highlights and news for Friday night

George Hill, who is unhappy in Sacramento, could be a solution to Cleveland's backcourt si...