Report: Raptors, Dwane Casey agree to 3-year contract
Dwane Casey will reportedly remain the head coach in Toronto.
• 2 min read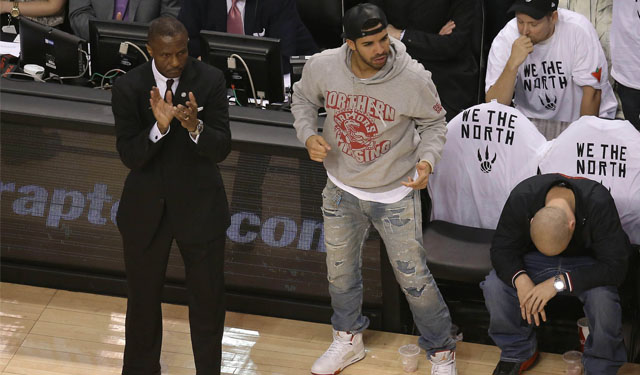 More postseason coverage: Playoff schedule, results | Latest news, notes
Dwane Casey has agreed in principle to a three-year contract to remain the head coach of the Toronto Raptors, according to the Toronto Star's Doug Smith. The deal will be worth a little less than $4 million per season, according to NBA.com's David Aldridge. 
In his third season at the helm, Casey's Raptors went 48-34, the best regular-season mark in franchise history. That was good enough for the third seed in the Eastern Conference. 
The young Toronto team found its stride after trading Rudy Gay to the Sacramento Kings for four reserves in December. Despite Casey's uncertain future and talk of the front office potentially blowing up the roster, the Raptors saw surprising success. Their season ended Sunday with a Game 7 loss to the Brooklyn Nets.
The team has scheduled season-ending media availability for Casey on Tuesday morning. Presumably, the deal will be announced at that time. After the game on Sunday, Casey said only that it would be handled in the next couple of weeks.  
Toronto's players met the media earlier Monday, and they expressed their support for Casey. 
"He got us together," point guard Greivis Vasquez said. "You gotta have him a lot of credit. He's gotta be back after the year that he has done."
Swingman DeMar DeRozan and big man Amir Johnson are the only Raptors who have been there since Casey arrived in 2011-2012, and they both said they wanted to stay the course with this group and this coach.
"I just feel like we've been in it together," Johnson said. "We've been here, we've been through the ups and downs…we definitely grinded it out to get to where we are now. It's just been an amazing journey, and hopefully we can keep working, keep continuing to get better."
"You gotta respect coach Casey, he never changed up," DeRozan said. "You could go in his office, knock on his door, talk to him whenever, you could text him. He's a player's coach. He's a great dude. Sometimes you don't even look at him like a coach because you could go up to him and talk to Dwane about any situation. I think that's what helped us a lot."
Under Casey's watch, DeRozan blossomed into an All-Star, Kyle Lowry enjoyed a career season and sophomores Jonas Valanciunas and Terrence Ross made significant strides. While general manager Masai Ujiri inherited him rather than hiring him, Toronto's resurgence meant a coaching change never seemed likely.
Irving has requested a trade away from the Cavaliers

The Lakers made a strong push for Rose, but he would have been a backup in Los Angeles

The small forward spent last season with the Sacramento Kings
Knight still has three years left on his five-year, $70 million contract

The Golden State forward is accused of assault, battery and making misleading statements

The Nets get their shooter a year later, and the Blazers reportedly will waive Nicholson