Report: Ray Allen to meet with Heat, Clippers, decide among Boston, Miami, and L.A.
Report says the star shooting guard will meet with Clippers and Heat as he decides his future.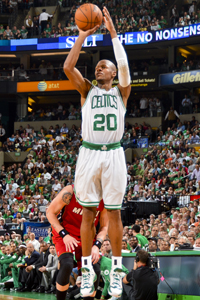 Ray Allen has a tough decision.
(Getty Images)
Ray Allen is one of the few major free agents left to decide where he will spend the end of his career. And his choice essentially comes down to title contention vs. comfort vs. money. 
ESPN reports while Allen is still considering the two-year, $12 million offer from the Celtics, he will meet Thursday with the Miami Heat and Los Angeles Clippers. The Heat are offering a chance at an NBA title for the taxpayer midlevel, at three years for $9 million. The Clippers are willing to offer the most, at the full mid-level at three years, $15 million. 
The Celtics offer comfort (Allen has a house in Boston), the familiarity of making one more run with the Boston Big 4, and playing for coach Doc Rivers. The downsides are the fact that Boston is likely not a championship contender, and there has been talk of conflict between Allen and Rajon Rondo, though that's likely overstated. They offer the medium amount of money. Not the most, but quite a bit. He'll have to come off the bench in Boston behind Avery Bradley and willl likely have Jason Terry eating into his minutes. 
The Heat offer the chance at another title. Allen fits into the team better than he would with Boston, as he'll be the first shooter off the bench. The Heat have a great defense just like Boston, and Allen will have the opportunity to end his career on a title favorite. The money isn't as good, and there's no way around it. 
The Clippers, of course, offer the most money, a major market, and a likely starting position. With Chauncey Billups yet to re-sign, there's a decent chance Allen could start at shooting guard. He gets to play with Chris Paul, make the most money and be on a very good team. 
It's a lot for Allen to balance. We should have an indication in the next 24 to 48 hours where he stands. 
A dive into the NBA history books for every result from every NBA All-Star Game

James set the tone during practice that this year's All-Star game was going to be differen...

The 76ers center handled 'mismatches' like they were nothing
LeBron James says he will continue his social activism no matter what people say about him

The 76ers guard is in hot water after a controversial video surfaced showing him using a racial...

LeBron James earned his third career All-Star Game MVP award