Report: Richard Jefferson emerges as Cavaliers trade target for Bynum
The Cleveland Cavaliers are considering a deal that involves acquiring Richard Jefferson from the Utah Jazz.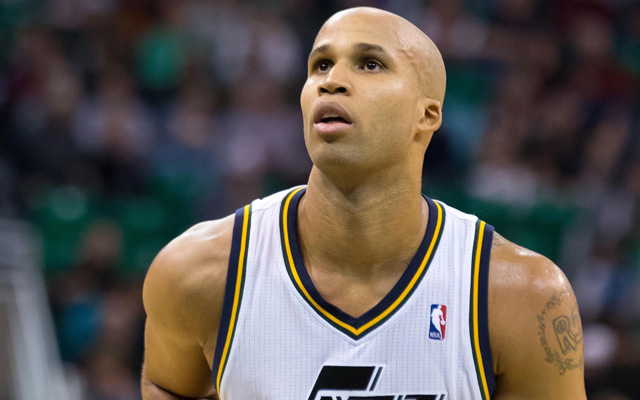 ESPN reports that the Cavaliers have narrowed their options for trading disgruntled center Andrew Bynum to three possibilities. They include the previously reported talks with the Los Angeles Lakers for Pau Gasol which are reportedly "nearly dead," shutting down talks alltogether and keeping Bynum, and a possible trade for Utah Jazz veteran swingman Richard Jefferson. 
Sources said Utah Jazz veteran swingman Richard Jefferson has emerged as a new trade target for the Cavaliers after ongoing talks with the Los Angeles Lakers on a deal centered around the swap of former teammates Pau Gasol and Bynum remained at an impasse Friday.

Utah Jazz swingman Richard Jefferson has emerged as a new trade target for the Cavaliers as they look to potentially move Andrew Bynum.

A deal with Utah that would send Jefferson to Cleveland and likewise allow the Jazz to acquire and waive Bynum before the other half of his $12.3 million salary this season becomes guaranteed is one of three primary options for the Cavaliers. The other two, sources said Friday, are continuing talks with the Lakers this weekend in hopes of hashing out trade terms both teams can stomach, or electing to keep Bynum beyond Tuesday's deadline and then reshopping him as a trade asset before the Feb. 20 trade deadline, or, if necessary, again in late June and early July.
via Richard Jefferson of Utah Jazz now a potential trade target as Cleveland Cavaliers look to move Andrew Bynum - ESPN.
Jefferson has quietly had a bit of a resurgence on rebuilding Utah this year, averaging 10.0 points and 3.0 rebounds on 43 percent shooting for the Jazz. He had become considered to be dead salary in Golden State where he played just ten minutes per game last season averaging three oints per game. 
Jefferson provides a lot of what Cleveland appears to be looking for in a deal: a veteran small forward who can help the team in the short-term without adding substantial money long-term. Jefferson has an expiring contract for over $11 million dollars. The Jazz could trade Jefferson for Bynum, then waive Bynum before the January 7th deadline to guarantee his $12 million for this season, saving them nearly $5 million in salary for this season. 
Oh, and the move makes them worse, which helps their long-term tanking goals. 
As we outlined when the talks were stalling earlier this week, the problem with a Lakers deal involves two teams that always look to come out substantially ahead in any deal, despite both having compromised leverage. Gasol is a shell of his former self, and Bynum is a pure salary dump. The Lakers want to improve their team, and the Cavaliers only want to surrender Bynum and filler. 
A look at the context of the schedule and who plays who when, and how far they travel during...

Durant took on rapper Lil Dicky and actually might have lost

A report that James would once again be leaving Cleveland made the rounds on Wednesday
Known for his 'take that for data' rant, the Grizzlies coach touched on a number of important...

Wade's days with the Chicago Bulls appear to be numbered

Misty Suri will reportedly keep his job with the New Orleans Pelicans