Report: Ricky Rubio wants five-year max extension from Wolves
Rubio's agent is reportedly pushing for a max extension for the boyish point guard.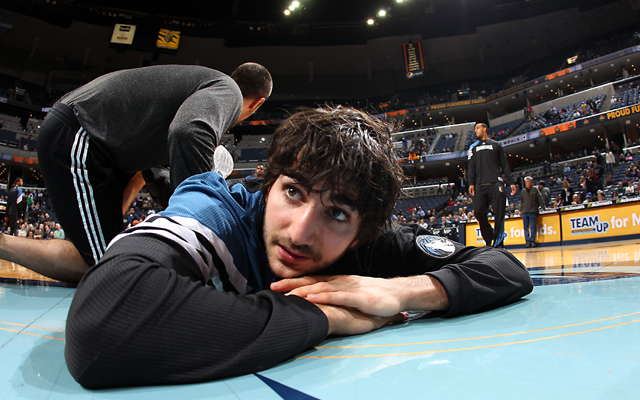 More Offseason Analysis: Updating Free Agency news | Free Agent tracker
Since Kevin Love is on his way out the door, Minnesota Timberwolves point guard Ricky Rubio is set to capitalize on being the team's biggest star. When Love came up for extension off his rookie contract, then-GM David Kahn balked at giving Love the max five-year "designated player" extension. At the time, several reports indicated Kahn, who has since been fired, was holding it out for the boyish Spanish point guard.
Now ESPN 1500 reports that Rubio's agent Dan Fegan wants that five-year, max deal for Rubio.
Yes. Fegan aiming for 5-yr max. RT @BrianGaranich: @DarrenWolfson With all this Love trade talk, they actually talking w/ Rubio/his agent?

— Darren Wolfson (@DarrenWolfson) July 15, 2014
Even after factoring that there's a salary floor which teams have to hit so they have to spend some money, and factoring that Rubio's a tremendous on-ball defender and playmaker, and the fact that he's their most bankable star ... this is a bad idea for Minnesota.
Rubio averaged 9.5 points, 8.5 assists and 2.3 steals per game last season. He's a phenomenal defender and despite shooting 38 percent from the field, he had some bright spots late in the season. But the shot really is mostly a disaster. Teams will consistently go under the screen vs. him. With Love on the floor, some of that impact is mitigated by spacing. but without Love, it could get bad. If teams scheme to stop Rubio's drive and pass, and just surrender the floor to him, he could really struggle.
More important, it's a long-term max contract to a non-elite player during a rebuild after Love is inevitably traded. Even with the floor, you can't tie up resources like that.
Now, this is posturing by the agent. Minnesota can resist that call and will have restricted free-agency rights to retain Rubio if he doesn't sign an extension at all. But even then, the most he could get offered is a four-year deal. Keeping good talent is hard for a team like Minnesota (obviously) but over-committing to a player not worth it is just as dangerous. Hopefully the real contract will wind up closer to Steph Curry's (underpaid on account of injury concerns at the time of signing) four-year, $44 million deal than the max, for Minnesota's sake.
CBS Sports HQ Daily Newsletter
Get the best highlights and stories - yeah, just the good stuff handpicked by our team to start your day.
Please check the opt-in box to acknowledge that you would like to subscribe.
Thanks for signing up!
Keep an eye on your inbox for the latest sports news.
Sorry!
There was an error processing your subscription.
The European draft prospect seems very confident in himself heading into Thursday's draft

The Mercury have won eight in a row to become the first team to 10 wins this season

Here's your chance own a piece of NBA Finals ignominy
CBS Sports' Raja Bell believes landing Kawhi could impact LeBron's decision on where he'll...

The international pool was hurt by early withdrawals, but some solid players are available

Kawhi Leonard wants to go to Los Angeles, but teams in L.A. are reportedly worried about his...