Report: Rockets believe they're 'outgunned' in pursuit of Kevin Love
Houston doesn't think it can acquire the All-Star Timberwolves forward, but here's a bigger question: Is that such a bad thing?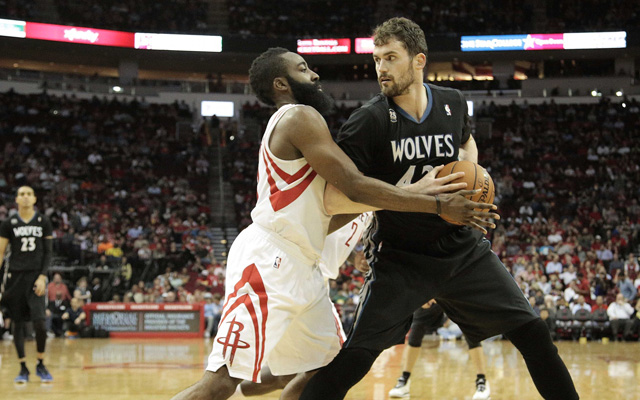 More Offseason Analysis: Coaching changes, news | Free Agency | Draft
USA Today reports that the Houston Rockets, a consistent suitor for Kevin Love over the past few years but especially within the last month after it became known the Wolves were open to moving the All-Star forward, don't think they have a great shot at landing him. 
On the Kevin Love front, I'm told the Houston Rockets are pretty sure they're outgunned in terms of having the assets that Minnesota wants.

— Sam Amick (@sam_amick) June 11, 2014
The Rockets didn't have much to offer. They're no longer flush with picks like they were in earlier seasons, and their current selections don't match up with the top-10 offerings of the other suitors. They have talented young forwards in Terrence Jones and Donatas Motiejunas, and impact players on massive contracts like Jeremy Lin and Omer Asik (whose salary cap hit is only $8 million but whose actual dollar payout is $15 million). But Chandler Parsons isn't tradable after they elected to decline his option for next year and make him a restricted free agent, unless it's a sign and trade, and it's unlikely the Wolves want to put significant money towards Parsons as part of their rebuild.
But beyond the Rockets' difficulties in acquiring Love is this, which has been bugging me since their pursuit became known: Love is not what they need. Love is a phenomenal, top-10 player in this league and makes any team better. But the Rockets have been an offensive juggernaut since James Harden was acquired in 2012. Their problem is defense, and that was never more apparent than in their first-round loss to the Blazers. They need a wing defender, not a scoring power forward. 
The Rockets probably won't get Love. And that's probably for the best, for both parties. 
Thomas took to Twitter to let the Celtics know he doesn't want to ruin Pierce's night

The Hall of Famer was a seven-time All-Star with the Celtics, and was MVP of the 1976 Fina...

It's rare to see a legit punch in an NBA fight, but this was definitely one of them
We've got all the scores, highlights and news from an NBA Tuesday

The former Slam Dunk Contest champion will take his talents to Tri-State

Do NBA players have look-a-likes from famous paintings? We found out on the new Arts & Culture...