Report: Rockets extend back-loaded offer to Lin
Jeremy Lin has reportedly received an offer from the Houston Rockets.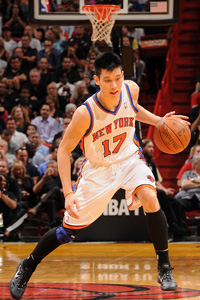 Jeremy Lin reportedly has an offer from the Rockets.
(Getty Images)
The Rockets are making the push to get back the phenomenon they let go on waivers. 
Yahoo Sports reports: 
The Houston Rockets have given Jeremy Lin a multiyear offer sheet, and the New York Knicks free-agent point guard was mulling over whether to accept it, league sources told Yahoo! Sports.

...

Houston's multiyear offer to Jeremy Lin includes back-loaded money designed to hit the Knicks hard on the luxury tax, sources close to Lin said. The Rockets' offer comes as the Phoenix Suns reached agreement with Goran Dragic on a four-year, $34 million contract. The Rockets stopped bidding on Dragic, refusing to go as far as the Suns did.

The Knicks have publicly and privately indicated they plan to match any offer for Lin.
via Rockets make offer to Jeremy Lin - Yahoo! Sports.
Earlier reports indicated that the offer would be in the $30 million range. Lin pulled out of Team USA this week because of his ongoing free agency. 
With Kyle Lowry unhappy with Kevin McHale, and Goran Dragic headed to Phoenix, the Rockets need a point guard. Lin, beyond his marketing appeal, beyond his star power, fits well in Houston. He can distribute the ball to shooters and forwards, can get up and down in transition, is coachable and will connect with Daryl Morey's thoughtful approach to team-building. 
Should the Knicks match, they are sure to face massive, perhaps unprecedented luxury tax implications in 2015, getting hit with not only a massive amount as the backloaded structure of Lin's deal hits, but the repeater tax starts to really nail them in its second year as ordered by the new CBA. 
The Rockets are trying to put them in an impossible position. But after missing out on Steve Nash, you have to think the Knicks will do something to save face, particularly after the Nets' promising summer, and keeping Lin is huge. He has massive potential financially, basketball-wise, and for team building. He's young and productive. 
Who would have thought a year ago that Jeremy Lin would be the subject of a bidding war between multiple franchises? A great story keeps getting better. 
Warriors' forward doesn't understand the reasoning behind the all-too-common double technical...

Hardaway Jr. gave a 'safe' call like he was an umpire in baseball

Barnes hits the trey with less than a second left to lift Mavericks to dramatic 95-94 vict...
Kevin Durant was once again back in Oklahoma City

Gregg Popovich has never seen an injury lead to the issues that Kawhi Leonard has been fac...

Kobe Bryant, of course, had his 81-point game against Rose and the Raptors back in 2006