Report: Rockets 'heavily engaged' in pursuit of Chris Bosh
With Carmelo Anthony looking unlikely to join Houston, team focusing on possibility of adding Heat forward in free agency if LeBron James departs.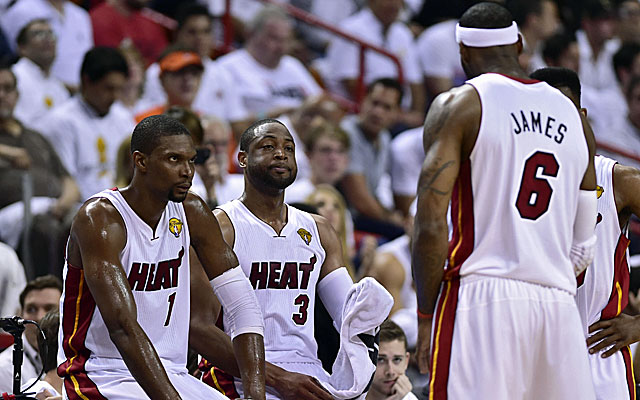 More Offseason Analysis: Updating Free Agency news | Top 40 free agents
ESPN reports that the Houston Rockets have moved to become "heavily engaged" in trying to sign Miami Heat free agent forward Chris Bosh amid increasing uncertainty surrounding LeBron James . 
Sources close to the process told ESPN.com on Sunday that the Rockets -- though they haven't been formally told they are no longer in the running for top free-agent target Carmelo Anthony -- have intensified their pursuit of Bosh over the weekend in the hope that LeBron James will seriously consider leaving the Heat.

It is widely assumed throughout the league that Bosh will only be willing to leave Miami if James leaves first, after Bosh said numerous times during the season that he intended to stay with the Heat, even if it required taking a pay cut from last season's $19 million salary. So Miami remains the favorite to sign him.

Yet as ESPN.com first reported Thursday, Houston has been plotting to shift its focus to trying to swipe Bosh from the Heat and convince the Texas native to return to his home state as soon as the Rockets felt like Anthony was out of reach.

Sources say Bosh remains willing to take slightly less than his value on the open market to return with the Heat if James and Dwyane Wade are also coming back and if Heat president Pat Riley can upgrade the current roster. But nearly a week into free agency -- with James' agent Rich Paul having opened negotiations with a handful of rival teams and Riley having secured no free-agent commitments -- sources say Bosh has felt compelled to consider other options himself.
via Houston Rockets ramp up pursuit of Chris Bosh - ESPN.
Ken Berger of CBSSports.com reported this weekend that part of the conditions for Bosh to leave Miami would be the maximum, four-year, $96 million deal he's able to garner under the new CBA, and that he has become the "tipping point" for the Big Three to head back to Miami.
Miami Heat president Pat Riley's effort to bring back the Big Three of LeBron James, Dwyane Wade and Chris Bosh in free agency has reached a fascinating tipping point. With none of the free agents committed to deals yet, league sources tell CBSSports.com that Bosh's future has emerged as the tipping point in Riley's master plan.

Riley's attempts to lure free agents to join the Big Three have been stalled by uncertainty over where the financial terms of Bosh's and Wade's prospective new deals with Miami would land. With James seeking a max salary for next season -- and deservedly so -- how much room Riley can create for other free-agent additions hinges on Bosh and Wade.

Given that Wade, in physical decline at age 32, opted out of $42 million over the next two seasons, rival teams believe he must have been assured that he would recoup that money by agreeing to a longer deal to return to the Heat. But as CBSSports.com reported Friday night, there will be a max market for Bosh -- especially if James and the Knicks' Carmelo Anthony finalize plans to return to their existing teams.

Several teams chasing James and Anthony would have a max slot for Bosh if they struck out on their two top targets. At minimum, the Rockets, Mavs and Lakers fit that description. The Bulls, Suns and Cavs also possess -- or have been working on creating -- room for a max free agent starting north of $20 million. For that reason, Bosh is viewed around the league as the most likely member of the Big Three to break off and change teams.

A rival team executive told CBSSports.com Friday that the growing belief around the league is that Bosh would prefer a four-year max deal with another team to a discounted, longer-term deal with Miami. So many pieces in the Heat's puzzle are connected, and one of them falling out of place threatens to tear the whole thing apart.
via Chris Bosh becomes key to Heat keeping Big Three in Miami - CBSSports.com.
And Sunday, Berger reported that James and his agent, Rich Paul, are set to meet with Pat Riley this week.
LeBron James and Pat Riley are on the verge of a face-to-face meeting to discuss the superstar's free agency, a league source confirmed to CBSSports.com Sunday night.

James and agent Rich Paul are working to schedule the sitdown with the Heat president in the next 2-3 days, said the person familiar with the details. USA Today first reported the plans.

With James weighing his free-agent options, and with uncertainty about the futures of fellow free agents Dwyane Wade and Chris Bosh, James and Riley have much to discuss -- and in some ways, not much at all. Given the team's salary-cap constraints, Riley has thus far been unable to secure any roster additions that would enhance the team's chances of keeping the Big Three together.

In the meantime, James' agent has spoken with the Rockets, Mavericks, Lakers, Cavaliers and Suns as he gathers information for the four-time MVP. Teams that have had discussions with James' agent have been told that James may be prepared to meet with them in person this week.
via Source: James, Riley planning sitdown to discuss free agency - CBSSports.com.
So let's take a step back for a moment and try and see the whole board. 
There's uncertainty about James. That much is clear. That doesn't necessarily connect to him leaving or staying, but it is enough to prompt movement. Bosh and Wade are essentially in a game of musical chairs right now, and Melo will have a seat and James will have a seat and at the end of it, Bosh has no intention of being the one without a chair. He's plug-and-play wherever he decides to go: Houston, Chicago, the Lakers. He can make max money and contend for a title. 
Is that enough to pry him from Miami, where he's made a home and where he's fit in culturally? Bosh has always been said to be closer to Wade than James. How does that affect things here? When Bosh, Wade and James met for a lunch the Friday before free agency started, it was assumed that they had worked out a plan to bring the band back for another run. And maybe they had. But that was likely dependent on Pat Riley upgrading the roster. 
Meawnhile, Riley has been out recruiting power forwards past their prime like Pau Gasol and small forwards who have yet to have a prime like Marvin Williams . Luol Deng is at least thought to be out of their price range, Kyle Lowry and Marcin Gortat have yet to be inked. Trevor Ariza is the one name that suspiciously has yet to get locked up; there's still been no deal between Ariza and the Wizards as expected. 
Whenever Riley meets with James, he'll lay out the details, and James will do whatever he does, meet with whoever he will, and make a decision. After that, comes Bosh. It's unlikely Bosh leaves Miami if James re-signs; he'll come back to the team he's comfortable with that made four straight Finals. If James leaves, though, he'll have options, and the Rockets will offer him a center in Dwight Howard to do the dirty work that Bosh doesn't want to do anymore, and another star in James Harden . Bosh would provide them with what they want, in a role he wants to play. 
And a four-year, $96 million deal. 
It's still possible things go chalk. That's the craziest part about an increasingly insane free agency period: We still know very little of what is actually happening But the elements that are in play are fluctuating, unstable and very much dynamic in relation to one another. When one major event happens, it will set of a chain reaction that will define much of the league next season and going forward. 
Oh, and the defending NBA champion Spurs re-signed Boris Diaw . 
Trump rescinded Curry's invitation to the White House after Curry said he wasn't interested...

Silver said he was hoping Warriors would get chance to share their views directly with the...

Along with the Thunder, those were the three teams most involved in the Anthony trade talk...
LeBron said he was frustrated by the President's recent actions

A look at the various actors and elements in the latest sensational blockbuster trade in the...

Blockbuster deal doesn't change the Thunder's projected finish in the West