Report: Rockets in advanced talks to trade Thomas Robinson
Rockets now reportedly in "advanced talks" to trade Thomas Robinson to potentially Chicago or Cleveland.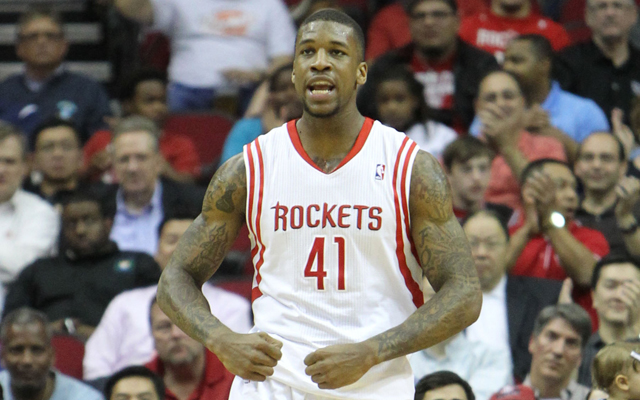 The Houston Chronicle reports that the Rockets have entered into "advanced talks" about a move to clear former first-round pick Thomas Robinson from their cap space. 
The Rockets are in advanced talks on a cap-clearing trade of forward Thomas Robinson, with a deal potentially "imminent," a person with knowledge of their plans said on Tuesday.

The Cleveland Cavaliers and Chicago Bulls have shown interest in Robinson, according to another individual with knowledge of the Rockets efforts to move Robinson's $3.5 million salary next season. The Bulls may be interested in Robinson as part of a larger deal, the individual said.

San Antonio had been interested in Robinson but the teams are not in talks about a deal.  It would be difficult for the Spurs to make any sort of deal for Robinson directly with the Rockets and would likely have to add a third team in a larger deal.
via Rockets in advanced talks on trade for Thomas Robinson | Ultimate Rockets.
The Rockets acquired Robinson at the trade deadline last season for Patrick Patterson and Francisco Garcia mostly to clear space, and now are trying to clear Robinson for more space as they continue their never-ending quest to acquire Dwight Howard in free agency. 
Robinson was acquired at the trade deadline from the Kings last year and was touted as a major contributor going forward, but barely played for the Rockets in the midst of a power forward glut with combo forward Terrence Jones, Greg Smith, and Donatas Motiejunas. 
The Bulls are an interesting option, as Chicago wants cheap options to upgrade their bench frontcourt, and can afford to get creative for Robinson. The Cavaliers are basically talking to everyone about everything as Chris Grant tries to trade everything all the time. 
The Blazers guard was a guest on the Sirius XM radio show 'Sway in the Morning'

L.A. reached a three-year jersey ad patch deal with Wish, a San Francisco-based e-commerce...

John Paxson doesn't intend to buy Wade out without some sort of compromise from the 3-time...
Lonzo's signature shoes have a sleek, all-black design and will be available in November

Durant recently apologized for tweets criticizing the Thunder and Billy Donovan

Jackson says he has 'no respect' for Durant after KD created fake Twitter pages