Report: Rockets making hard push to hire Lionel Hollins as assistant
The Houston Rockets are reportedly trying to convince Lionel Hollins to be an assistant on Kevin McHale's coaching staff.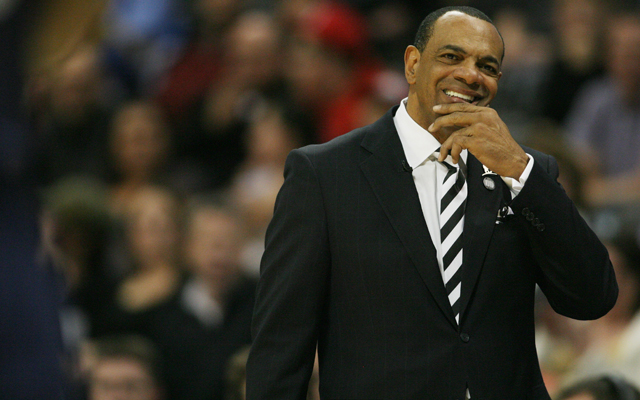 More Offseason Analysis: Coaching changes, news | Free Agency | Draft
The Houston Rockets were a solid defensive team in the 2013-14 regular season after adding Dwight Howard in free agency, but they struggled immensely on defense in their first round loss to the Portland Trail Blazers. The team has a number of capable defensive players but wasn't a good enough team consistently, especially in the playoffs to go out there and be one of the top defensive teams in the NBA. If the Rockets can't bring in a third start next to Howard and James Harden, maybe finding another way to be dynamic is through a coaching staff addition.
Marc Stein of ESPN.com is reporting the Rockets are making a big push to convince Lionel Hollins to join Kevin McHale's coaching staff. Hollins last coached the Memphis Grizzlies to their greatest season in franchise history in 2012-13 before being replaced by Dave Joerger last summer. It's assumed Hollins would be brought in to bring his defensive knowledge and system to the Rockets.
Word is Rockets making hard sell to Lionel Hollins to join Kevin McHale's staff as assistant. Hollins, naturally, still chasing next HC gig

— Marc Stein (@ESPNSteinLine) June 17, 2014
The Rockets were 12th in the NBA in defensive rating in 2013-14, giving up 103.1 points per 100 possessions. It was an improvement from the previous season when they had a defensive rating of 103.5, good for 16th in the NBA. During their six games against the Blazers in the first round of the 2014 playoffs, the Rockets were lit up on defense. They gave up a playoff worst 111.8 points per 100 possessions while being eliminated in six games.
Hollins was the full-time coach for the Grizzlies from 2009-2013 after previous stints in shorter capacities throughout the organization's history. In his first full season coaching the Grizzlies in 2009-10, Memphis finished 24th in the league with a defensive rating of 107.6. The next season, they improved to eighth in the NBA in defensive rating by giving up just 102.5 points per 100 possessions. They also made the playoffs for the first time since 2006 and advanced to the second round as the 8-seed. 
Over the next two seasons, the Grizzlies were an institution on defense, finishing seventh in 2011-12 (defensive rating of 98.9) and second in 2012-13 (defensive rating of 97.4). In 2012-13, the team won a franchise best 56 wins and made the Western Conference finals. Hollins was fired by Grizzlies' management and replaced by assistant Dave Joerger for the 2013-14 season.
Is this rock bottom for the Cavaliers because it sure feels like it is

Wade, as he's done so many times in his career, threw it up to LeBron for the thunderous f...

The Warriors coach added there should be no shame in being picked last since everyone's an...
We've got all the scores, highlights and news from all of Saturday's games

The two teams have reportedly not had any substantial discussions to this point

Oladipo may be getting most of the shine, but this second-year big man has been phenomenal...