Report: Rockets mulling Parsons, contact agents for Ariza, Deng, Pierce
Houston reportedly doesn't know whether or not it will match Dallas' offer sheet to Chandler Parsons, but has reached out about potential replacements.
• 1 min read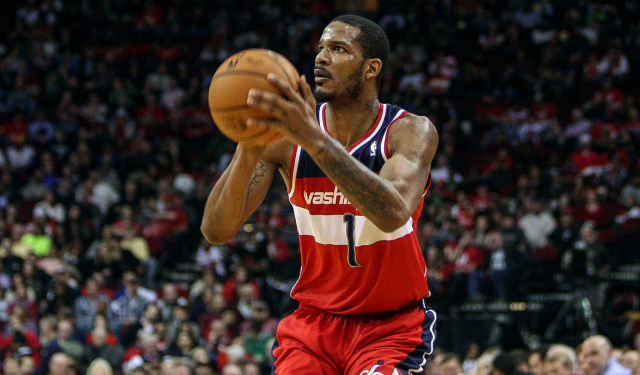 More Offseason Analysis: Coaching changes, news | Free Agency | Draft
The Houston Rockets have not decided whether or not to match the Dallas Mavericks' three-year, $46 million offer sheet to forward Chandler Parsons, but have contacted the agents for unrestricted free agents Trevor Ariza, Luol Deng and Paul Pierce, according to Yahoo Sports' Adrian Wojnarowski.
None of those small forwards possess the versatility, youth and upside of Parsons, but it makes sense that Houston would explore its potential backup plans. They shouldn't command the same sort of salary that Parsons did, but there are a lot of moving parts here. The Rockets want to add another star, but, if they want to go over the salary cap to bring Parsons back as well, they'd have to sign said star in the 72-hour window between Parsons signing the offer sheet and their deadline to match it.
If that's not possible, they will need to weigh their options, which might include the three players mentioned in the report. Ariza would be a bit of a funny signing, as Houston was the team that signed him to his first big free-agent deal back in 2009, after a strong showing with the Los Angeles Lakers. Ariza disappointed in his first season with the Rockets, and then they traded him to New Orleans. This past season was his best year since 2008-2009.
Deng would be an intriguing option for Houston, and a defensive upgrade over Parsons. He has proven capable of sliding over to the power forward position for stretches. He's probably looking for a big payday, though, which is the same problem the Rockets would face with Ariza. Pierce is probably the most affordable choice, but he can't offer what the other guys can on defense and, at 36 years old, he would only be a short-term solution. He also might prefer to go play for his former coach, Doc Rivers, with the Los Angeles Clippers.
Houston would probably be best served to just keep Parsons, but over the next few days the team might as well keep its options open.
Warriors' forward doesn't understand the reasoning behind the all-too-common double technical...

Hardaway Jr. gave a 'safe' call like he was an umpire in baseball

Barnes hits the trey with less than a second left to lift Mavericks to dramatic 95-94 vict...
Kevin Durant was once again back in Oklahoma City

Gregg Popovich has never seen an injury lead to the issues that Kawhi Leonard has been fac...

Kobe Bryant, of course, had his 81-point game against Rose and the Raptors back in 2006