Report: Rockets' offer for Kyle Lowry DOA because Raps won't trade
Toronto won't help facilitate a deal to send Kyle Lowry to Houston in a sign and trade because they want to keep the star point guard.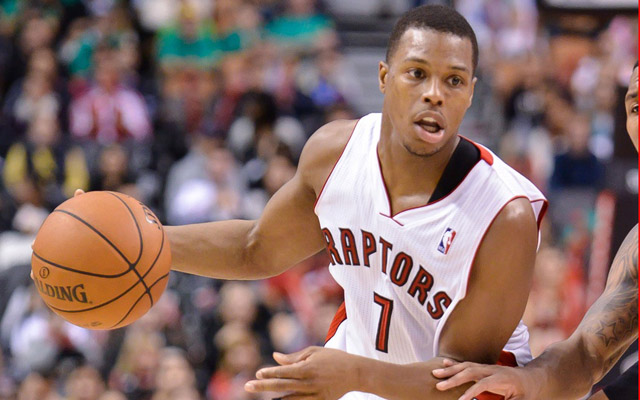 More Offseason Analysis: Updating Free Agency news | Top 40 free agents
ESPN reports that the Rockets' attempt to sign Kyle Lowry is dead on arrival because the Raptors won't facilitate a sign-and-trade due to their own interest in re-signing him. 
Source: Forget Kyle Lowry to Houston. Rockets wanted sign & trade but Toronto won't deal bc they want to keep Lowry

— Chris Broussard (@Chris_Broussard) July 1, 2014
The Rockets were said to have been aggressive Tuesday morning after the free agency period began in pursuing Lowry. But one had to think it was a longshot if for no other reason than Lowry clashed with coach Kevin McHale in his last year in Houston.
The Rockets still haven't traded Jeremy Lin, but that's believed to be part of a bigger effort on their part to re-tool their roster. They meet with Carmelo Anthony on Wednesday in Houston. 
Meanwhile, the Heat are the next team to try and make a run at Lowry, but with even less money to offer (through trade) than the Rockets, you have to think it's unlikely unless Lowry is just deadset on joining Miami. The Raptors reportedly met with Lowry in Philadelphia on Tuesday. 
Thomas took to Twitter to let the Celtics know he doesn't want to ruin Pierce's night

The Hall of Famer's jersey was retired by the Celtics in 1982

It's rare to see a legit punch in an NBA fight, but this was definitely one of them
We've got all the scores, highlights and news from an NBA Tuesday

The former Slam Dunk Contest champion will take his talents to Tri-State

Do NBA players have look-a-likes from famous paintings? We found out on the new Arts & Culture...