Report: Rockets pitch to Melo: contention, Dwight, and technology
Can Houston convince Carmelo Anthony his best chance to win is in the Lonestar State?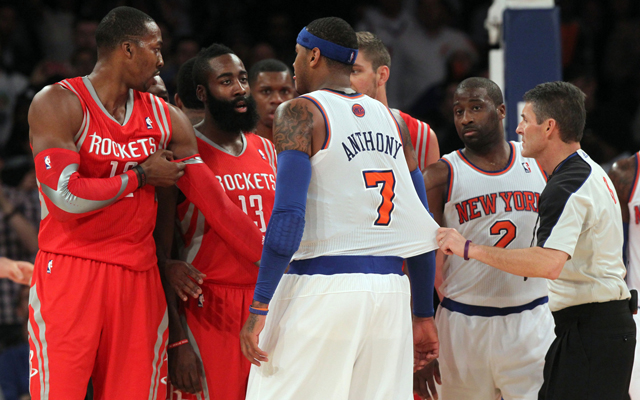 More Offseason Analysis: Coaching changes, news | Free Agency | Draft | Rumors
The Houston Chronicle has information on exactly how the Houston Rockets plan to pitch Carmelo Anthony on Tuesday to try and lure the free agent forward to Texas. The pitch will be focused on how signing with the Rockets means joining an instant contender instead of having to build toward one, and that Dwight Howard and the Rockets' technology emphasis will be part.
The thrust of the presentation will be about the Rockets' contention that Anthony, a 6-8 forward, would be joining a contender. According to an individual familiar with the plans, they would cite their roster, expected to include every starter off a 54-win team.

They will describe how Anthony, 30, would be used. They will use many of the same representatives -- owner Leslie Alexander, CEO Tad Brown, general manager Daryl Morey, coach Kevin McHale, former player Clyde Drexler, trainer Keith Jones and James Harden -- as those who landed Howard. Howard will also be a part of the presentation, replacing free agent Chandler Parsons on the welcoming committee.

But the Rockets will hope to use home-court advantage as they could not last season.

Howard's meetings were set up in Los Angeles, with the Rockets contingent making their appeal at a hotel dinner. On Wednesday, Anthony is scheduled to be at Toyota Center where the Rockets plan to pull out all the recruiting stops the $7 million upgrade to the basketball facilities allow.

 As much as the Rockets will emphasize the more sober facts and figures related to team building, they plan to use their extensive collection of gadgetry, from the video boards and sound system in the locker room to the new weight room, video room and player's lounge in ways they could not last summer when recruiting Howard.
via Rockets' pitch to Carmelo Anthony: We're a contender - Ultimate Rockets.
Howard said two weeks ago he wouldn't try and recruit LeBron James or Anthony, but apparently that doesn't include meetings that Anthony has agreed to. The technology aspect is fun, and shows how forward-thinking and aggressive the Rockets are in making their players comfortable and well-prepared, but really, the first point is most important. 
Are the Rockets a contender? They won 54 games in a hyper-competitive Western Conference last year, and while they lost in six games to Portland, each loss was agonizingly close. They had moments where they looked legitimately dangerous, but the overall finish was disappointing. 
Does Anthony make them a contender? He adds a versatile scorer and rebounder, a legit star to make things easier on Harden and Howard. But he doesn't solve their real problem: defense. The Rockets finished 12th in defensive efficiency last season, per NBA.com, dead last in points allowed per possession in the playoffs. Anthony's central weakness is defense, and the Rockets just traded their second-best rim protector in Omer Asik. 
Anthony sells tickets. He'll make Houston's offense, ranked fourth in points per possession last season, even better. But a contender? It's going to take a dramatically different performance from Anthony and the entire Rockets roster to make that a reality, even if he signs there. 
But that's the pitch for Melo. 
Is the hype fair, or are these three men really above their peers as the NBA's best sideline...

SportsLine simulated Wednesday's Pacers vs. Thunder game 10,000 times

An Alabama native, Barkley campaigned for Jones leading up to Tuesday's election
Kerr knew just what to say after Jones pulled off an upset in Alabama

The future of the league was on display on Tuesday night

Check in throughout the night for the latest news and highlights from NBA games