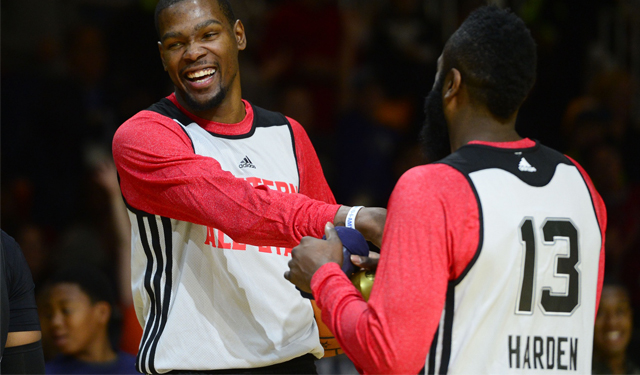 The Houston Rockets have been the heroes and zeroes of free agency for years now. When Daryl Morey took over the Rockets and it was obvious the Yao Ming-Tracy McGrady pairing wasn't destined for health and prosperity, the plan to start clearing cap space and acquiring assets to move in exchange for stars began. For years, Morey wasn't able to convince big name free agents to head to Houston and try to replicate the success Hakeem Olajuwon fostered there in the 90's. And all of his planning and finagling was a bit of a joke because nothing was coming of it.
Two years ago, Morey pulled off a trade for James Harden right before the season began and that helped recruit Dwight Howard in the summer of 2013 via free agency. Now Morey has two of his hopeful Big Three in place and he has enormous plans on whom to bring in to complete the triumvirate. Marc Stein of ESPN.com tells us Harden will likely be used as lead recruiter for Kevin Durant's services when he becomes a free agent in 2016.
The Rockets are widely expected to take a step back this season, thanks to all the depth they squandered on the Bosh dice roll, but they expect to have significant salary-cap room next summer -- when they can chase point guards as accomplished as Goran Dragic and Rajon Rondo if they choose -- as well as in the summer of 2016.

Which is when, sources say, they'd like to give Harden an opportunity to serve as Houston's lead recruiter in the pursuit of a free agent named Kevin Wayne Durant.
With LeBron James likely to finish up his career with the Cavaliers now that he's back in Cleveland, Durant becomes the new big target for cap space and dreams in 2016. His contract with the Oklahoma City Thunder will be done and teams will line up with cap space and promises of those elusive titles (assuming he hasn't won one with the Thunder by then) to try to lure him away from OKC. You're going to need a very good pitch in order to get him away from the Thunder and Morey using Durant's friend in Harden as bait is pretty promising.
Morey has been criticized this summer for botching his free agency situation when he missed on Chris Bosh and then didn't match the offer sheet the Mavericks gave Chandler Parsons. Instead, he walked away with Trevor Ariza and a war of words with Mark Cuban through the media. However, if he is able to pull this off and grab three of the 10-12 best players in the league in a four-year span, Morey will be regarded as the best front office executive in the league.
A lot has to happen between now and then, but if you're going to take a shot, you may as well go for it all.