Report: Rockets to focus on Bosh, Kyle Lowry if Melo pitch fails
Houston will reportedly set its sights on a couple of other big-name free agents if it can't recruit Carmelo Anthony.
• 1 min read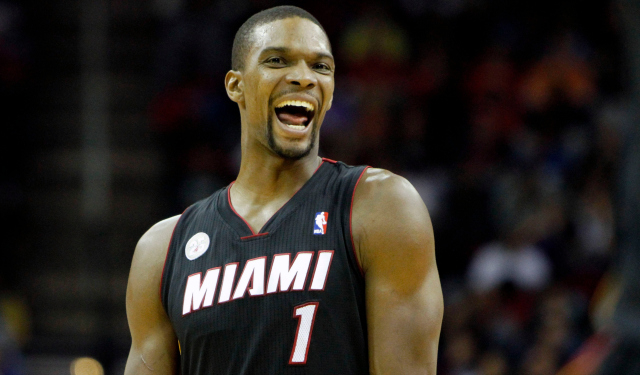 More Offseason Analysis: Coaching changes, news | Free Agency | Draft
The Houston Rockets will turn their free-agency attention to Chris Bosh and Kyle Lowry if they are not successful with their pitch to Carmelo Anthony, according to Jonathan Feigen of the Houston Chronicle.
The top priority if unable to land one of the top two targets would shift to Miami forward Chris Bosh if things change and the Heat power trio breaks up. But Bosh seems determined to remain in Miami. The Rockets are expected to take a run at their former point guard Kyle Lowry, though the Raptors hope to reach agreement to keep him before the Rockets or other teams would have a chance to know where they stand with their initial targets.
Bosh would be a fantastic fit for a Houston team that badly needs what he brings. The Rockets tried various stretch-four options last season, but always had to sacrifice defense for shooting. Bosh is elite at defending the pick-and-roll, and likely would get a bit of relief playing next to Dwight Howard instead of serving as the back line of the Miami Heat defense. As much as it makes sense, basketball-wise, Bosh has been open about how comfortable he is in Miami. The likelihood of him leaving seems low.
Lowry played for Houston from 2009 to 2012, and a return would give the team a huge boost. He doesn't fill in all the blanks like Bosh does, but would provide great two-way production at point guard, something the team has lacked since trading him to the Toronto Raptors. Maybe he could even get James Harden to play harder on defense. The problem, though, is similar to the Bosh situation. By the time Anthony makes up his mind, Lowry might be off the market. Toronto general manager Masai Ujiri will meet with Lowry at midnight, and a deal is reportedly "as good as done" already.
San Antonio's track record speaks for itself, but they've made a few puzzling moves this o...

The Kings top pick thinks your burgers are trash, California

Popovich added that Trump is 'unfit intellectually, emotionally, and psychologically' to be...
Larry Hartstein turned in a massive profit to close last season and locked in a pick for R...

Too many stars and not enough spots on the upcoming season's All-NBA teams

It appears Philadelphia will continue to be extremely cautious with its potential franchise...