Report: Rockets to make 'all-out push' for LeBron James
Houston set to pursue James, Anthony, and Bosh in free agency.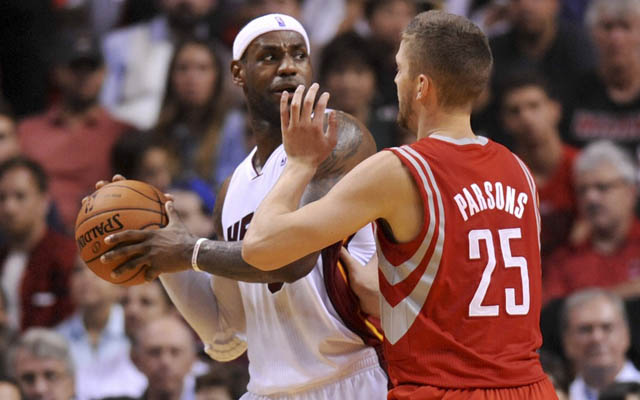 More Offseason Analysis: Coaching changes, news | Free Agency | Draft | Rumors
Bleacher Report reports that while the Houston Rockets may not have a shot at Kevin Love, they have their sights set higher, and are primed to make an "all out push" for LeBron James, and failing that, Carmelo Anthony and Chris Bosh.
Now, Rockets officials are aiming for the trifecta, with their sights set on the biggest prize of all: LeBron Raymone James.

A long shot? Perhaps. But the Rockets have defied expectations before.

League sources say that Houston is preparing to make an all-out push to land James when free agency opens on July 1, assuming James opts out, as expected. If the Rockets miss out on James, they will turn their full attention to Carmelo Anthony. Chris Bosh is also on the radar.
via Rockets Poised to Make Texas-Sized Offers in NBA Free Agency to LeBron, Melo | Bleacher Report.
Houston made runs at all three players in 2010's free agency and when Anthony was debating who to be traded to in 2011. They struck out on each player. But since then they've added James Harden and Dwight Howard. They have an aggressive owner who's willing to spend, the tax break of no state income tax, a dynamic guard and a dominant center. 
Of course, to get there, the Rockets have to first clear space. They would have to find takers for Jeremy Lin and Omer Asik, both on the books for $8 million in cap space and $15 million in salary through poison pills, and likely more unless James takes a massive paycut. 
Then they'd have to convince James to leave Miami, which is still unlikely, given everything. 
So the odds aren't great. Anthony's maybe a more likely option. They can provide Anthony real superstar help, the tax situation alleviates the money he's leaving behind in New York. He gives them a scoring threat, but doesn't provide them with a real upgrade at their biggest need: defense. 
Bosh, by far, is the most interesting candidate. Bosh would fit perfectly next to Howard. He can defend pick and roll out to the perimeter and stretch the floor. He fits exceptionally well on both sides of the ball. Bosh has long resisted returning to Texas (he grew up in Dallas).  But if he could be convinced, that would be ideal from a basketball perspective. 
But one thing's certain. The Rockets, again, intend to be aggressive. Dwight Howard has said he won't try and recruit anyone to come to Houston. 
20 teams have reportedly inquired about Irving's availability, with six already making off...

A year after his own high-profile franchise switch, Kevin Durant chimes in on Kyrie Irving

Miami is on Irving's list, but this package still wouldn't be enough to get a deal done
Some teams want to fight the Warriors, others want to 'fight' for the right to draft Michael...

Oklahoma City has reportedly offered the MVP a five-year extension worth over $200 million

The big man was a big part of the Warriors' championship run last season