Report: Rockets to pursue Carmelo Anthony
The Houston Rockets want to try and land Carmelo Anthony in trade or free agency this summer.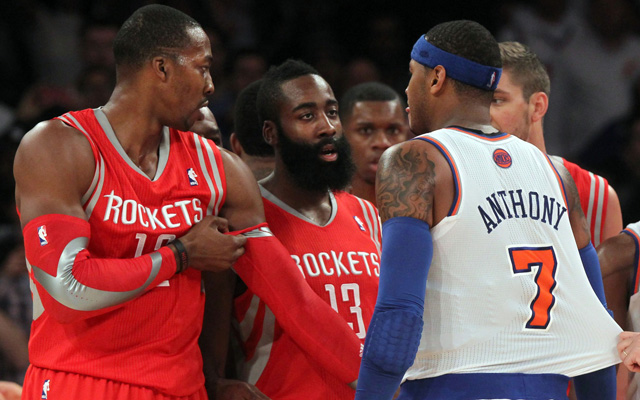 More NBA: Power Rankings | Expert Picks | Latest news, notes
The Houston Rockets made a huge splash last summer when they signed center Dwight Howard. Now the New York Post reports that they're trying for another one: signing New York Knicks forward Carmelo Anthony. 
According to a league source, the Rockets will make a bid for Anthony this summer, even though they probably won't have cap space and would have to orchestrate a creative sign-and-trade. The source said Houston asked the Knicks about Anthony before February's trade deadline.

The Knicks have held discussions with the Rockets about power forward Omer Asik. Even though Rockets president Daryl Morey is the pioneer of advanced statistics and Anthony has never fared well in some efficiency categories, Morey's old-school instincts believe he could form a terrific Big 3 with Dwight Howard and James Harden. Rockets management also believes Anthony has made advancements in the grit department the past two seasons.
via Source: Rockets could make a big push for Carmelo | New York Post.
The report falls in line with what Morey has spoken of before, wanting a third star to pair with Howard and guard James Harden. The chances of New York facilitating a such a deal are slim, unless Anthony specifically tells them that's what he wants. Additionally,there is a slight possibility that Anthony could get what he wants the most: the money that comes from his bird rights re-signing with the team he's under contract with and the chance at a title. If he opts into the final year of his contract for next season, and the Knicks acquiesce with a trade, Anthony could then re-sign with Houston for the max in the summer of 2015. That's an unlikely possibility, but it does get Anthony around the issue in that players who are traded can't be extended for six months. 
For Houston, would this move make sense? Harden takes up 27.7 percent of all touches when he's on the floor for Houston, according to Basketball-Reference.com. Howard takes up another 24.5 percent. That's nearly 53 percent of all posessions absorbed by Harden and Howard. How on Earth would they fit in Anthony and his 32.7 usage? Even if everyone sacrificed considerably, there'd be no room for anyone else? 
Oh, and what about the Knicks in this? Houston could offer draft picks, Chandler Parsons, Omer Asik, Jeremy Lin, Terrence Jones, and more cap clearing space to take on Anthony. But with Phil Jackson coming on board, is his first move as being in charge going to be trading the franchise icon? That does not sound very Phil Jackson-like now does it? 
I would put this one on the "slim chance" table, but it is an intriguing idea, thinking about a small-ball attack with Melo as a stretch four and Howard at the five. 
Victor Oladipo just wants to live his life and enjoy his breakout season with his new team

Keep it right here for all of the news, notes, scores, and highlights from around the Asso...

LeBron has a player option for next season, and is expected to opt out and become a free a...
The Pistons will be looking to snap a five-game losing streak when they host the Celtics on...

Bryant offers some advice for Ball and other rookies about having a sense of urgency in the...

Burks has stepped up in a big way for the Jazz, averaging over 20 points per game since Rodney...