Report: Rose rested so Team USA could evaluate bubble players
It's reportedly possible Rose was held back Wednesday so coaches could look at other players who aren't locks to make Team USA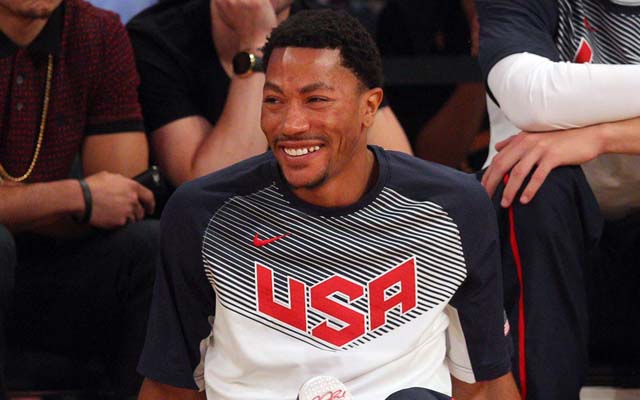 ESPN Chicago reports that while Derrick Rose was legitimately sore as he was held out of Wednesday night's exhibition , the real reason for Rose's absence might have been that the coaching staff wanted to evaluate some players who, unlike Rose, aren't certain to make the cut. 
One source familiar with Team USA's plans told ESPN.com that coach Mike Krzyzewski decided to hold Rose out of the Dominican Republic game to make more minutes available for players vying for one of the squad's last few roster spots as final cuts approach.
via Chicago Bulls star Derrick Rose sitting out Team USA exhibition at Madison Square Garden - ESPN Chicago.
That could be spin to try and deflect attention away from the situation. When people here "Derrick Rose misses game with soreness" all sorts of alarm bells start going off. Rose said Wednesday night it's not his knees, and that he'd play in Friday night's exhibition. From Ken Berger of CBSSports.com: 
He'll play Friday, Rose said after the U.S. men's national team toyed with the Dominican Republic in a 105-62 victory on Wednesday night.

"Just trying to protect myself, just knowing that this is a long, long schedule and this is the most basketball I'll be playing in two years," Rose said. "So I'm just going in, trying to gear up, making sure that I'm healthy."

It's essentially been a three-year journey for Rose, who has played only 10 games the past two seasons due to injuries to both knees. For those who might be a bit apprehensive after the injury to Paul George and withdrawal by All-Stars Kevin Love, Blake Griffin, LaMarcus Aldridge and Kevin Durant, Rose smiled as he set the record straight.

"No, not the knees," he said. "No, no, no, no; you don't have to worry about that."
via Rose rests again for Team USA, says there's 'nothing to worry about' - CBSSports.com.
Rose also indicated that the decision to sit wasn't entirely his to make, suggesting the training staff along with assistant Team USA coach and Bulls head coach Tom Thibodeau had something to do with it. 
But despite Rose's ability to play Friday, and a widespread "This is nothing to worry about" sentiment, there are real roster concerns here. Rose was sore after weeks of practice and after an exhibition game. What happens when he has to play multiple games in a row, on short rest? "Well, then he'll sit" come the answer. But a. is it in the best interest of the team to leave itself short on depth, especially down low, in order to bring a player who's a superstar that has wowed the coaches in practice but may not be able to consistently go, and b. is it fair to the other players who have worked as hard as they have to earn a spot in which they can actually go, game by game?
But the reality is this: the coaching staff, from head coach Mike Krzyzewski, to Thibodeau, to assistant Jim Boeheim have all raved about Rose in practice. The big picture doesn't seem to be playing much part in this process. Damian Lillard has been a better overall player than Kyrie Irving the past two years, but Irving has looked better in practice and in the exibitions, so he's likely in. DeMarcus Cousins is the best overall big man outside of Anthony Davis that the team has, but the coaches simply don't like what he brings. 
So the odds of Rose staying with the team are overwhelming. He's going to make roster, he won't pull out, and he'll be with the team. It just may be up to the other guards on the roster, particularly Stephen Curry, James Harden, and Irving, to cover in the event that he experiences any discomfort. The Bulls, and Rose, can't afford to risk anything. But Rose is simply too highly regarded by the staff, no matter the risk, to affect his position. 
Friday night's not really the question. The immediate is never the concern with Rose. The long-term, the future, is always where things get dicey. The best situation, though, is that the team was trying to look at other players. 
The former Clipper apparently had some tricks up his sleeve after a chippy game

The Rockets were apparently looking for Austin Rivers and Blake Griffin after a chippy gam...

If they don't meet in the Finals again, let's appreciate every one of the 27 matchups since...
D-Wade picked up the steal and got creative on the fast break as the Cavs headed into half...

Despite the embarrassing hiccup, the youngest Ball had himself a pretty great day on the c...

The players were both ejected in the closing seconds, then continued their discussion off the...