Report: Russell Westbrook will skip Team USA in 2014 World Cup
Oklahoma City Thunder point guard Russell Westbrook has withdrawn from Team USA for the World Cup in Spain this September.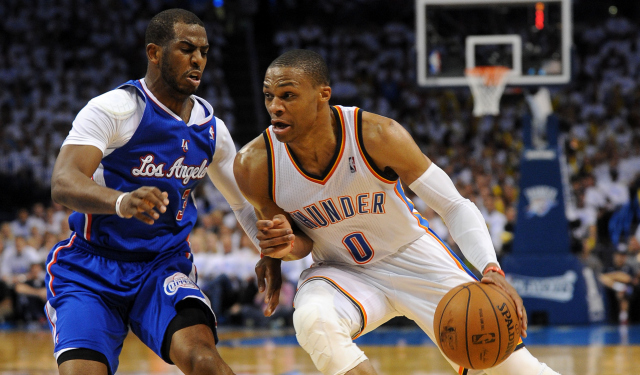 More Offseason Analysis: Coaching changes, news | Free Agency | Draft
Over the last 15 months, Oklahoma City Thunder point guard Russell Westbrook has been through a lot physically. He's had three surgeries on the right knee that was injured during the 2013 playoffs when Patrick Beverley crashed into him while going for a steal. Since then, he's worked hard to get back to the court where he helped the Thunder get to the Western Conference finals. After all of that recovery work, he'll need to make sure he gets back into a proper, regular training routine for this summer.
According to Adrian Wojnarowski of Yahoo Sports, Westbrook won't be playing for Team USA when they head to Spain for the FIBA World Cup this September. He's reportedly withdrawn from the two-month commitment and will skip the July training camp, the August exhibitions, and the tournament itself.
Oklahoma City Thunder guard Russell Westbrook has withdrawn from USA Basketball's roster for the World Cup in Spain this summer, league sources told Yahoo Sports.

After a season that included his third surgery on his right knee, Westbrook decided to pass on the two-month commitment that includes a July training camp, August exhibition tour and September tournament in Spain.
Westbrook helped USA Basketball win gold medals in the FIBA tournament in 2010 in Turkey and the Beijing Olympics in 2012. His withdrawal from playing for the team this summer gives Stephen Curry of the Golden State Warriors, Damian Lillard of the Portland Trail Blazers, and Kyrie Irving of the Cleveland Cavaliers a chance to make their mark on Team USA for future tournaments.
Markieff Morris was already in line to miss the start of camp due to a pending assault cas...

The 76ers should hopefully get a lot of play out of their young guys this season

Okafor's been on and off the trade block for over a year and doesn't seem to be in Philly's...
Fisher is the fourth NBA player to compete for the Mirror Ball trophy on the show

Barkley commends the NBA, sarcastically, for extending the season and reducing back-to-back...

Enes Kanter isn't seeing much comedy in the Kevin Durant social media situation