Report: Sanders out indefinitely after involvement in bar fight
Bucks center will not play vs. Cavaliers as details of incident Saturday night emerge.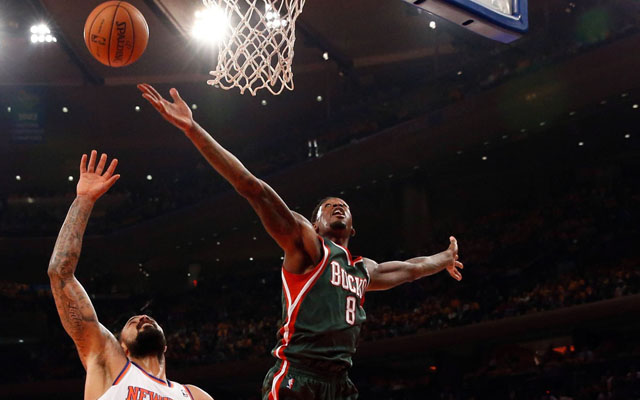 UPDATE 7:20 p.m. ET: TMJ4 in Milwaukee reports on more details of the alleged fight: 
Milwaukee Police want to talk to him too. Police say theyre looking into a huge fight from last Saturday night at Apartment 720 on Milwaukee Street, downtown. The I-Teams police sources say Sanders started that fight while in the VIP room. A fight where Sanders allegedly threw punches and broke champagne bottles over the heads of people while security tried to break up the fight.
via Bucks star Larry Sanders at center of investigation into bar fight - TODAYS TMJ4.
Bucks center Larry Sanders is out Wednesday night vs. the Cavaliers due to an "off-court incident," Coach Larry Drew said before tipoff. 
Bucks' Larry Sanders out after off-court incident and will not play Wed. Coach Larry Drew said "right now it's under investigation."

— cfgardner (@cf_gardner) November 6, 2013
Sanders is reportedly being investigated for an incident being described as a "bar fight."
Larry Sanders, who was given $44M extension over summer, is allegedly being investigated for bar fight.

— Gery Woelfel (@GeryWoelfel) November 6, 2013
Sanders, 24, has been unhappy with his limited role under Drew, and is averaging just four points and four rebounds per game through the Bucks' first three games.
The Bucks released the following statement Wednesday night: 
"We are aware of an incident from Saturday evening. The matter is under investigation and Larry Sanders is cooperating fully. At this time we will have no further comment."
We've got you covered for all the scores and highlights from Sunday's NBA games

The Cavs superstar compared Kaepernick to Martin Luther King Jr. and Muhammad Ali

The Warriors coach isn't surprised that the president and LaVar Ball are in a war of words
Kyle Kuzma is tired of how his teammate Lonzo Ball is being treated

The Warriors used a huge third quarter to come back from a 23-point deficit to get the win

Three takeaways from Golden State's 24-point rally past the Sixers