Report: Sefolosha receiving interest from Clippers, Mavericks, Rockets
Veteran wing has scheduled meetings with teams in free agency.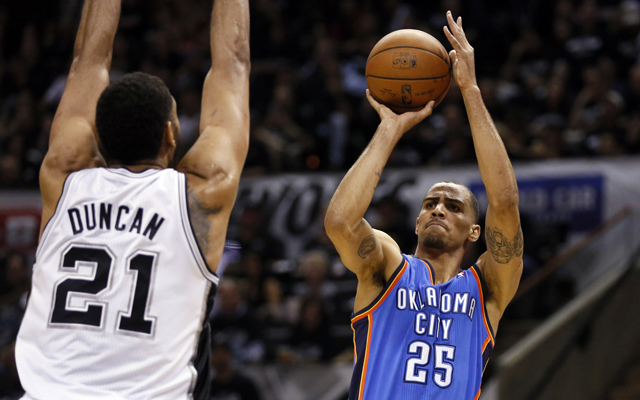 More Offseason Analysis: Updating Free Agency news | Top 40 free agents
Veteran forward Thabo Sefolosha has received interest from multiple teams, according to RealGM.com: 
Free agent Thabo Sefolosha has received interest - LAC, DAL, HOU, others - and scheduled meetings, source tells RealGM. No OKC contact yet.

— Shams Charania (@ShamsCharania) July 1, 2014
Let's take a look at how he fits on those teams: 
Clippers: They still want more wing depth. Despite their issues in rim protection and bench, they have wanted better wing defenders as well. The idea, presumably, would be to provide small forward depth behind Matt Barnes to provide for ways to cover Jamal Crawford defensively. 
Mavericks: They need almost any wing defender they can get. They were atrocious defensively last season and even with Jose Calderon's departure, still need help. Vince Carter and Shawn Marion are free agents, further complicating their situation. This of course is secondary to their pursuit of Carmelo Anthony. 
Rockets: Another team with awful perimeter defense. The Rockets are trying to find wing defenders who can shoot, much the same way that Miami built around their big three the last few years. Sefolosha's shot is a question mark, but anyone who comes into Houston's system almost always sees their percentage rise. This would be a terrific fit for Houston, Melo or no Melo. 
Cousins suffered a torn Achilles tendon on Jan. 26, and will miss the rest of the season

Ingram has become one of the team's go-to players with Lonzo Ball sidelined with an injury

Giannis skipped EuroBasket last summer, and has missed four games this season with knee so...
Some of the best and worst from the league as we head into the home stretch of the season

Cuban acknowledged that tanking is 'brutal' and that he will no longer do that after this...

Cho has been the GM in Charlotte since 2011