Report: Seven teams 'expect' to pitch Carmelo Anthony
The Knicks, Bulls, Rockets, Mavericks, Lakers, Heat, and Hawks plan to pitch the forward in free agency.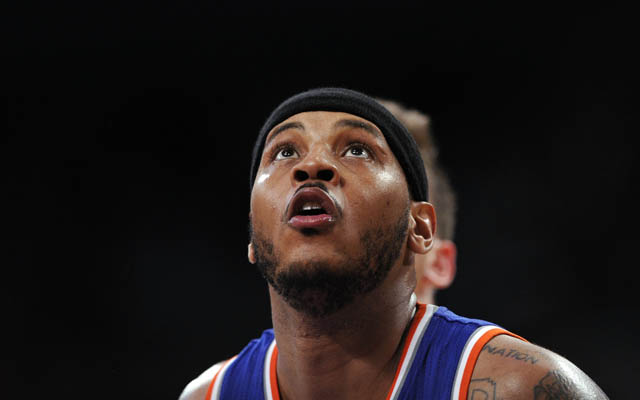 More Offseason Analysis: Coaching changes, news | Free Agency | Draft | Rumors
ESPN reports that after Carmelo Anthony formally announced his opt out for the 2014-2015 season to become a free agent effective July 1st, seven teams have lined up to pursue the Knicks forward to try and land his services. 
Carmelo Anthony has yet to publicly reveal the process by which he plans to entertain other teams in free agency now that he has opted out of his contract with the New York Knicks, but the Chicago Bulls, Houston Rockets, Dallas Mavericks and Los Angeles Lakers are among the teams that expect to have the opportunity to make their pitch to him starting July 1, according to sources close to the situation.

Teams can't formally contact free agents until 12:01 a.m. ET July 1, but sources told ESPN.com that the Atlanta Hawks and Miami Heat are two more teams that could join the race for Anthony, depending on how things play out before, during and after Thursday's NBA draft.
via Carmelo Anthony pursuit expected to include Chicago Bulls, Houston Rockets - ESPN.
The Knicks were obvious, the Bulls we knew about, the Rockets were rumored and the Heat were on the radar for a few weeks. 
The rest were at least possible but to hear them formally included is interesting. 
Dallas makes a pretty compelling case. Anthony would be able to play next to a future Hall of Famer in Dirk Nowitzki, for a terrific coach in Rick Carlisle, with a good fit roster-wise, a solid offense, and oh, by the way, no state income tax. The Mavericks have been moderately aggressive in pursuing free agents over the last few years but have consistently missed out. But hey, maybe.... eighth time is the charm? 
The Lakers offer Anthony the chance to play with his friend and mentor Kobe Bryant, the lure of LA and to play for the iconic franchise, a potentially max contract and... yeah, that's about it. Not exactly a great opportunity, but if you believe the Lakers are the Lakers, it could happen. 
And then there's Atlanta. The Hawks offer cap flexibility long-term, a mix of youth and veterans. They have a coach from the Popovich tree, an elite player in Al Horford, and absolutely no shot of landing Carmelo Anthony. Take a second and imagine that conversation with La La Vasquez. 
So the table's set for the MeloDrama 2.0. Get ready to hear a lot more about this in the next two weeks, some of which might actually be true! 
Leonard's relationship with Spurs also reportedly strained because of how injury has been...

San Antonio hasn't missed the playoffs in 20 years, but the road is rocky this season

Last year's MVP finalist has missed all but nine games this season
The design for the patch is still being worked on

The explosive forward and upcoming free agent is having a career year

Cuban said on Dr. J's podcast that losing is Dallas' 'best option'