Report: Shaquille O'Neal choked out a teammate while with the Suns
A crazy story of Shaquille O'Neal when he was with the Suns and put a teammate under out of frustration in a closed practice.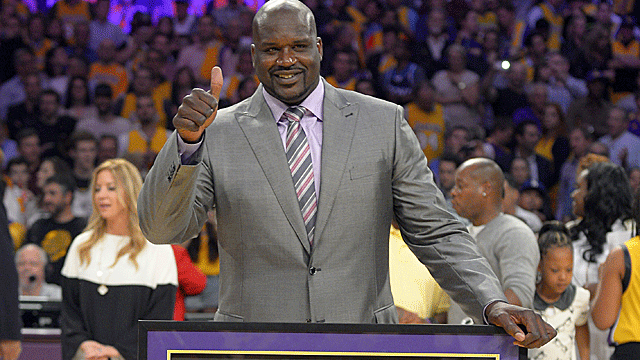 In February of 2008, Steve Kerr, who had taken over as GM of the Phoenix Suns, broke up 7-Seconds-or-Less, forever. He ended one of the greatest offensive teams of all time, with the premise that the team's approach could not succeed in the playoffs (despite multiple playoff victories) due to its inability to get past San Antonio in the infamous Robert-Horry-hip-checks-Steve-Nash-into-the-table-and-somehow-the-Suns-get-punished-more series. 
He traded for Shaquille O'Neal, then still an impact player, and the idea was that combining the Suns' offensive explosion with the inside dominance of O'Neal would enable the Suns to compete with the Spurs in the playoffs. 
Instead this happened. 
That was pretty much it, and apparently the Suns knew it. The Arizona Republic reports off of a story mentioned by Grant Hill on "Inside Stuff" over the weekend, where O'Neal in a closed practice after that game put a teammate to sleep. Literally.
Hill redacted a main character from his other story, sharing only that O'Neal put a sleeper hold on a teammate. It was no exaggeration.

The Heat Index filled the gaps in his anecdote. It was April 2008. Imagine the Suns environment after a crushing Game 1 loss at San Antonio when Tim Duncan made a game-tying overtime 3-pointer to spur his team to victory.

There was an awkward discomfort about the off days in San Antonio and a sense that an ashen Mike D'Antoni was coaching the team for a final time.

Who knew just how much he was handling?

It turns out O'Neal and Gordan Giricek, who had been with the Suns for all of six weeks, mixed it up verbally during a closed practice to the point that O'Neal auditioned for his WWE future. He put Giricek in a sleeper hold, except it was no fake. Giricek passed out.

Giricek played the remainder of the season, but it was his last NBA season
via Ex-Phoenix Suns guard Kendall Marshall hopes to make it with Philly.
Tim Duncan ended the career of Gordan Giricek. So that's fun. 
The repercussions of that series were crazy. Mike D'Antoni was fired, sending him to New York, which paved the way for Mike Woodson and everything going on with the Knicks. D'Antoni takes over the Lakers last year, and there were repercussions you can make your own mind up from there. O'Neal's career was pretty much over, then, save for a brief sojourn to Cleveland and Boston where he barely played. 
The trade that had happened earlier that year sent Shawn Marion to Miami, and he was eventually traded away, which gave them the cap room to sign ... well you know. 
Everything is interconnected. It starts with a Robert Horry hi check, it ends with Gordon Giricek getting choked out of the NBA. 
HT: HoopsHype
LeBron said he'll give 'passion, commitment, and inspiration' while he's wearing a Cavs un...

SportsLine's computer model simulated Celtics vs. Cavs 10,000 times with surprising result...

There are a lot of rumors, but Irving is keeping quiet about his motives for leaving Cleve...
From the Warriors to the new superteams to the Sacramento Kings, get ready.

Brett Brown said recently that Embiid's minutes would likely be in the teens to start the...

According to D'Antoni's specific plan, Houston's All-Star duo will play 18 minutes together...