Report: Shawn Marion met with the Pacers on Monday
With the Cleveland Cavaliers as the reported frontrunners, Shawn Marion accepted an invite from Larry Bird to meet with the Indiana Pacers on Monday.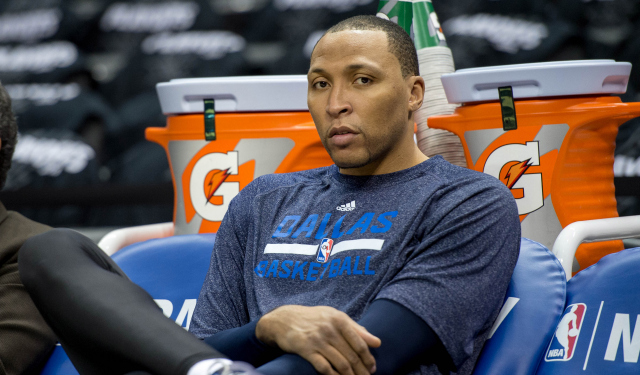 More Offseason Analysis: Coaching changes, news | Free Agency | Draft
Shawn Marion is arguably the most important unrestricted free agent left on the market right now. Reports have had him leaning toward the Cleveland Cavaliers to help provide some defensive versatility to LeBron James and his team. The Indiana Pacers have been the other team trying to woo Marion to their team, but it's been expected the Cavaliers would win out in their pursuit.
Marc Stein of ESPN.com is reporting that while the Cavs have been regarded as the frontrunners, Marion accepted an invitation from Pacers' president Larry Bird to come back to Indiana for another meeting. Marion met with the Pacers earlier on Monday about signing with the team that likely lost Paul George for at least the season.
ESPN sources say Shawn Marion had a face-to-face meeting earlier Monday with Pacers president Larry Bird

— Marc Stein (@ESPNSteinLine) August 12, 2014
Heading into Monday, Cavs were still regarded as frontrunners to land Marion, but invite from Larry Legend led to him making trip to Indy

— Marc Stein (@ESPNSteinLine) August 12, 2014
The Pacers very much need the services of Marion to stay afloat in the East. Without George available this season, the Pacers have a big hole at the wing position. They also lost Lance Stephenson to the Charlotte Hornets in free agency too. Marion would at least give them the defensive presence to remain very relevant in the East and likely keep them in the playoffs. Without a replacement for George at all, the Pacers are in danger of sliding out of the playoffs if anything else goes wrong for them or the 9-through-11 teams in the East make a push.
Indiana is very close to the luxury tax line, sitting about $1.6 million under it. They're probably going to get a Disabled Players Exception for $5.5 million, but it's very unlikely they'd use the entire amount to sign a player and go over the luxury tax threshold unless they start thinking they could really slip out of the playoffs altogether.
Westbrook's late layup gave the Thunder a 109-108 victory

LeBron became the seventh player in league history to reach the milestone

There were a few things that stood out from Tuesday's All-Star selections
Here are three players from each conference who had legitimate claims to make the game

LeBron achieved the milestone in the first quarter Tuesday

Here are the full lineups for the 2018 NBA All-Star Game