Report: Shelly Sterling hopes to have deal done by Monday
Shelly Sterling is reportedly reviewing initial offers for the Clippers franchise, while Donald Sterling has disavowed his agreement to let her sell it.
• 1 min read
More: Sterling banned for life | Latest updates | NBA news
Shelly Sterling is reviewing early bids for the Los Angeles Clippers, according to ESPN's Ramona Shelburne and Darren Rovell. She had set a 5 p.m. ET Wednesday deadline for offers to buy the Los Angeles Clippers, according to Bloomberg's Scott Soshnick and the New York Times' Scott Cacciola. Now ESPN has reported that the deadline for offers is 5 p.m. on Thursday, there will be a second round of bidding this weekend and Sterling wants a deal to be reached by Monday.
Sources tell ESPN that bidders have been encouraged to finance as little of the deal as possible. Because of the well-heeled nature of the bidders, it's believed that winning bid could be paid for with at least 80 percent cash, with less than 20 percent of it financed. This will make bids easier to evaluate more quickly.

One group involved is led by music mogul David Geffen and includes Oracle CEO Larry Ellison and Oprah Winfrey. This group now also includes Guggenheim executives Todd Boehly and Mark Walter, ESPN.com has learned.
Banned Clippers owner Donald Sterling filed a 32-page document in response to the NBA, which came to light on Tuesday, stating that he intends to fight the league's charges against him. Meanwhile, Shelly Sterling put out a statement saying that Donald Sterling had authorized her to negotiate a sale. Donald Sterling's lawyer said that his client has "disavowed" anything Shelly was doing to sell the team, via ESPN's Ramona Shelburne.  
NBA commissioner Adam Silver has indicated that he would prefer that the team is sold before the June 3 board of governors hearing on the matter, but that 100 percent of it must be sold -- the league would not approve a sale in which either Sterling carried on as a part-owner. The Los Angeles Times reported last week that the Sterlings planned to sell, but for Shelly to retain a minority stake. The Clippers cannot be sold without the NBA's approval.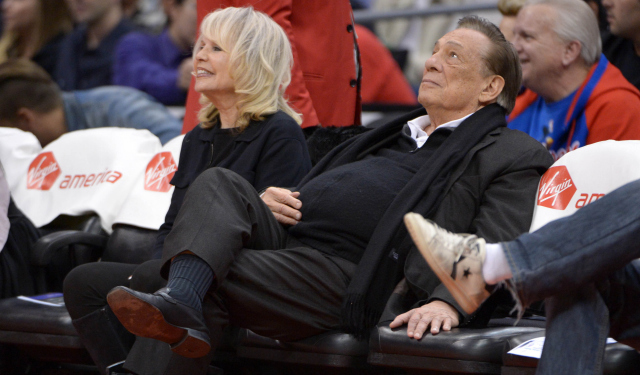 LeBron and Durant both responded to a newswoman's recent comments, telling them to 'shut up...

Mitchell's Slam Dunk Contest win was the icing on the cake of an incredible run of success

Dennis Smith Jr. had a great dunk contest, but the judges didn't feel the same way
Mitchell was awesome, but Larry Nance Jr. and Dennis Smith Jr. had some serious moves of their...

Silver noted that there are many factors at play with the issue affecting both the NBA and...

Jazz rookie Donovan Mitchell came in as a replacement and ended up winning the whole thing