Report: Sixers could still look to trade Jahlil Okafor this summer
The rookie big man had a great season (offensively) but does he fit with Philly's overall plan?
During our live draft night show on this very website, CBS Sports college basketball senior writer Gary Parrish and I were split on Jahlil Okafor. Parrish considered him at the very least as the No. 2 overall pick, based on his combination of size and incredible post moves. I viewed him as clearly a No. 3 pick based on D'Angelo Russell's shooting ability in a post-Steph world, and his defensive liability, particularly in any perimeter situation. 
Turns out, he probably should have gone fourth, behind Kristaps Porzingis. 
And yet, Okafor had a really good season. Despite off-court incidents, despite the defensive issues, despite injury problems and despite a lingering rumor halo of discontent, Okafor averaged 28.6 points and 11.5 rebounds per 100 possessions on 51 percent shooting. Only 12 players in NBA history have had rookie years like that, and they're almost all great players. 
Still, rumors have persisted of the Sixers being interested in moving Okafor. The biggest complication is the unicorn-status of Joel Embiid, who still holds the best potential of any player on their roster of becoming a star ... if Embiid can get on the court. 
Philly.com reports that if Embiid is finally healthy this summer, they're likely to look to move Okafor. If he's not, they're likely to look at moving either Okafor or Noel. From Philly.com:  
Similar players, Okafor and Embiid are an unlikely pairing. They are both liabilities guarding athletic power forwards and chasing stretch fours on the perimeter. So the belief is that the Sixers may try to move Okafor this summer if Embiid is healthy. If he isn't, they have to decide between Okafor and Noel.
Source: Jahlil Okafor's uncertain future with the Sixers. 
This is a really weird situation. Embiid just turned 22 this month, which coincidentally, is the same age as Providence guard Kris Dunn, a top-five prospect. Embiid is still very young, and has been working with Sixers staff, when he can, on and off for two years. The talent is still there. However, until Embiid proves that not only can he play, but he can get through a season in at least mostly full health, making decisions based on that is exceptionally dangerous and could set the Sixers back even further. 
The conversation about Noel is also weird. The argument is that Noel is a liability guarding stretch fours, but with Noel's length and instincts, there's no reason he can't develop into an able defender in that capacity. Look at what LaMarcus Aldridge, who is not a plus defender, did vs. Steph Curry in their most recent matchup. 
Maybe the real key wth Okafor is that he presents an opportunity to complete the process of establishing a core this summer. If the Sixers are able to land a franchise-level star with either their pick -- or the Kings' pick if Sacramento finishes ahead (the Sixers have swap rights with the Kings) -- then they have a real opportunity to move forward, add Dario Saric from Europe, get Embiid healthy, start he and Noel together and then use Okafor to fill out several spots either through the draft or tangible trade assets (they desperately need a point guard, still). 
However, what if they can't find a trade partner on draft night, still don't know Embiid's situation and are in a position where Dragan Bender is the best prospect on the board? The situation is just as perilous as it is promising for what looks to be the most important summer yet for the Sixers.
Then again, we've said that every summer for the past three years about Philadelphia. If a team is looking to make a big splash by adding a tremendous low-post scorer, however, the opportunity seems to still be there this summer.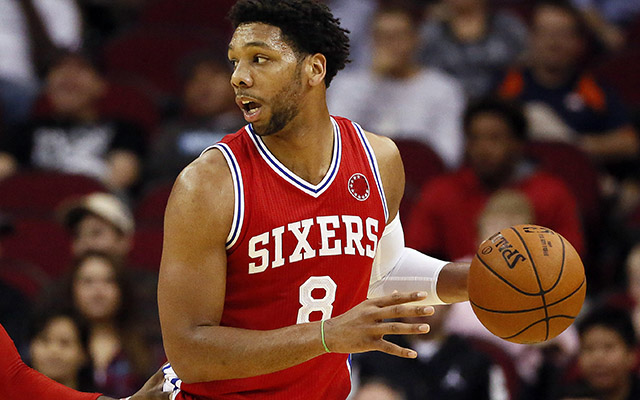 Another day, another social media beef for Embiid

We have all the latest scores, highlights and news from Wednesday's NBA games

Thomas spent a day with a 10-year-old girl whose family is also new to Cleveland
Barkley did not hold back with his opinion of the Big Baller Brand patriarch

LaVar Ball also made it clear he thinks his sons are being placed in 'a great situation'

The Thunder are just 12-14 on the season, despite the addition of Paul George and Carmelo...