Report: Sixers have reached out to Cleveland to trade for No. 1
Philadelphia wants to make sure it gets Wiggins, but doesn't want to give up the third and tenth picks.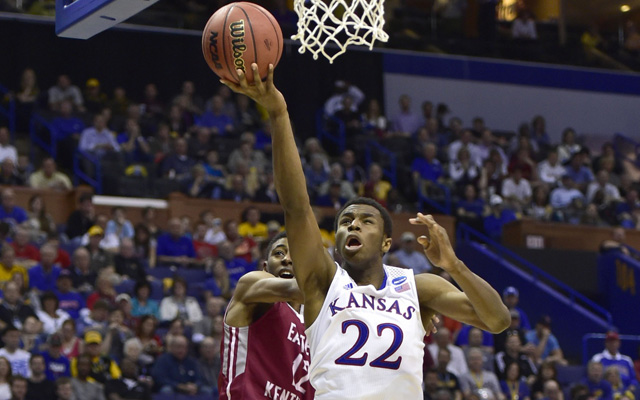 More Draft: Mock drafts | Draft news
ESPN reports that the Philadelphia 76ers have approached the Cleveland Cavaliers about a potential trade for the No. 1 pick. The Sixers reportedly are keen on Kansas guard Andrew Wiggins. 
The Sixers actually have engaged the Cavs about moving to No. 1. They aren't willing to give up both the Nos. 3 and 10 picks, but a combination of No. 3 and Thaddeus Young is a possibility. And it's a great scenario for Wiggins, as well. Of the three top teams, his camp prefers the Sixers as the best possible fit.
via ESPN NBA Mock Draft - ESPN.
The only way this makes sense is if A. the Cavs' possibility of trading the No. 1 pick for Kevin Love is dead and B. the Cavaliers have decided on someone they feel will be available at No. 3. Now, ESPN reports in the same mock draft that the Bucks have pretty much decided on Jabari Parker. So if that's the case, then Joel Embiid, who would likely be their No. 1 pick anyway, could still be there. And if they can get their No. 1 guy at No. 3 and pick up Thaddeus Young to play combo 3/4, then all the better. 
Wiggins certainly does make the most sense for Philly. They need a scorer next to Michael Carter-Williams and while Wiggins' shot is a work in progress, there's the potential for it to develop, and that team would be holy hell in transition. 
You have to wonder -- with the Sixers having two top-10 picks, the Cavs wanting Kevin Love, and the Wolves wanting multiple picks -- if there's something to be worked out in a scenario to get the No. 1 to Philly, both Philly picks to Minnesota, and Love and Thaddeus Young to Cleveland. The issue likely comes in getting the Sixers a valuable enough future asset in return. Would Dion Waiters or Tristan Thompson help that along, along with a protected first-rounder? And how ready is Philly to stop accumulating future assets? 
This is just one speculative, but reasonable, scenario that shows how fluid the top 10 of this draft is. 
The inaugural BIG3 season comes to a close Sunday with the championship game

Thomas was traded to Cleveland yet some fans are taking it out on him ... and his jerseys

The Celtics dealt the No. 1 pick to Cleveland as part of the Kyrie Irving-Isaiah Thomas tr...
Thompson was rumored to have been a point of discussion with the Cavs regarding Kyrie Irvi...

What the Celtics and Cavs look like after the Eastern Conference powers swap point men

Simmons was the No. 1 pick in the 2016 NBA Draft but did not play last season