Report: Sixers, Magic, Jazz trying to acquire top-2 pick
The teams right behind the Cavaliers and Bucks are all reportedly trying to move up.
• 1 min read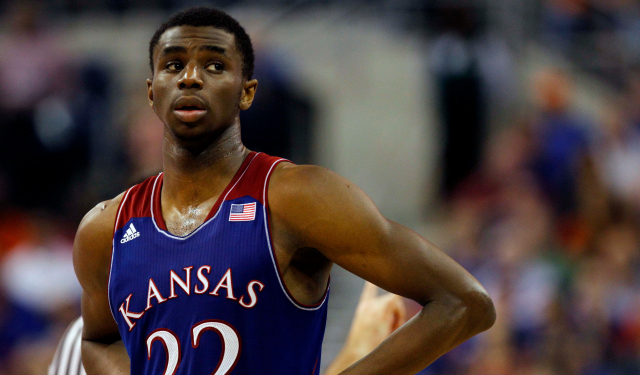 More Offseason Analysis: Coaching changes, news | Free Agency | Draft
With news of Joel Embiid's injury and the subsequent surgery a few days ago, the 2014 NBA Draft has been shaken up significantly. It looks like Jabari Parker and Andrew Wiggins are clearly the two top picks, and several teams were targeting players who now might go higher than expected. The Philadelphia 76ers, Orlando Magic and Utah Jazz, who own the third, fourth and fifth picks, respectively, are all trying to move up, according to ESPN's Chad Ford.
The Cavs received intriguing offers from the Sixers, Magic and Jazz late last week. Each is offering its own high lottery pick plus a veteran. The Cavs could theoretically get either of Thaddeus Young, Arron Afflalo or Derrick Favors and still have a top-5 pick in the draft. It would make it much easier to draft Embiid if you knew you got additional value in the form of a veteran who can help now.

…

The Bucks also are getting their fair share of trade offers. The Sixers, Magic and Jazz all called them as well, offering similar packages. But it looks unlikely the Bucks are going to trade this pick. They need a franchise player and don't feel they'll get one later in the draft.
At no point over the past season was it easy to acquire a high pick in this year's draft. It's been anticipated as highly as any in recent memory, and it still looks like the strongest crop in a while. Embiid's injury threw the league for a loop, but it'd still presumably take quite the offer to get the Cleveland Cavaliers or Milwaukee Bucks to agree to a trade. 
There is always trade chatter in the days leading up to the draft, but this year is a bit different. The Sixers have lots of assets and reportedly target a player, Andrew Wiggins, who will almost certainly not be available at their slot. The Magic are reportedly dangling Arron Afflalo everywhere. The Jazz are picking in a position where there will be several good big men available, but they already have their frontcourt of the future. This doesn't mean any of them will be successful at moving up, but anything can happen between now and Thursday.
DH12 is picked for free throws after a teammate gets ejected. He makes both, and lets Scott...

Bell was injured defending a Robin Lopez dunk and had to be taken off the floor in a wheel...

Trevor Ariza and Gerald Green are reportedly both suspended two games
We've got all the scores, highlights and news from Wednesday night

Jonah Keri talks with NFL and NBA broadcaster Ian Eagle

SportsLine simulated Wednesday's Nuggets-Clippers game 10,000 times