Report: Some executives, agents believe Eric Bledsoe got fair offer
A handful of team executives and prominent agents believe the Phoenix Suns offered Eric Bledsoe a fair deal with their four-year, $48 million offer.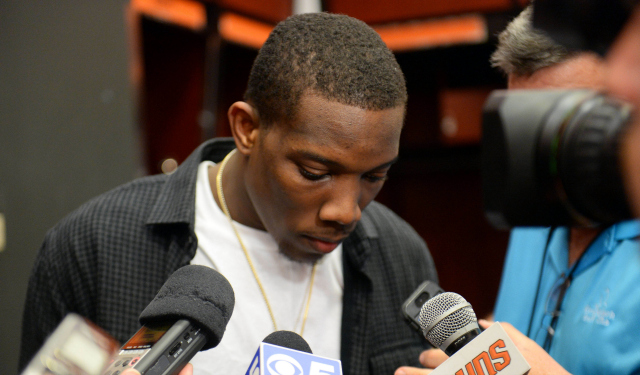 More Offseason Analysis: Coaching changes, news | Free Agency | Draft
Eric Bledsoe and the Phoenix Suns still haven't come to a resolution on his restricted free agency status. The Suns have reportedly offered a four-year, $48 million deal when Bledsoe was expecting something close to the maximum offer this summer. With the Suns' impending ability to match any offer sheet for Bledsoe, the market for the Suns' dynamic guard hasn't been what he and his agent Rich Paul were expecting it to be. Is the offer the Suns gave Bledsoe fair?
According to Paul Coro of the Arizona Republic, four current NBA executives and two prominent agents were unanimous in saying Bledsoe's offer from the Suns was fair and that he isn't worthy of a max deal as of right now. One agent even said that the "desperation deals are done" so nobody is feeling pressured to make a move like possibly overpaying for Bledsoe.
Four current NBA executives and two prominent agents were anonymously unanimous in their belief that the Suns made a fair offer to Bledsoe and that he does not merit a maximum-salary contract now.

One executive considered $48 million to be more than enough.

"I'm surprised that they would offer him that much," he said. "They don't need to. It is really fair and, in fact, generous. He is talented, but he has never put it together very long, and he hasn't been healthy. It's hard to turn your team over to him."

With skepticism of his decision-making and perimeter shooting, his athleticism becomes a key for his outstanding defense, drives and transition ability, but that is tainted by two right-knee surgeries.

One executive and one agent said they could see paying him slightly more than Phoenix's offer, but only approaching $13 million per year.
This is the problem for players in restricted free agency. If they don't create the market for themselves by pursuing teams instead of waiting for teams to pursue them, the market can dry up and leave them wondering how to counter an offer they perceive as low from their incumbent team. In Bledsoe's case, the only team with real cap space left to offer is the Philadelphia 76ers but they're so intent on being bad as they rebuild their roster they're unlikely to pursue someone like Bledsoe in an attempt to steal him away.
There are two reasons these executives could be agreeing with the Suns like this: 1) They actually believe this is a fair offer for Bledsoe and are avoiding driving up the market for players like him or 2) they're hoping to keep pressure on the situation and exploit a potentially growing rift between the organization and the player. The agents chiming in and agreeing with the Suns makes you lean toward the former because it would behoove them to drive up market value for a lot of players like Bledsoe for when their own guys join the free agent market.
Bledsoe and Greg Monroe of the Detroit Pistons are still trying to figure out how to get that secondary offer from a team to drive up negotiations with their incumbent teams. They can also take the one-year qualifying offer and risk injury for the opportunity to be an unrestricted free agent in 2015, but players rarely even consider going that route, let alone traversing it.
The Cavs superstar compared Kaepernick to Martin Luther King Jr. and Muhammad Ali

The Warriors coach isn't surprised that the president and LaVar Ball are in a war of words

We've got you covered for all the scores and highlights from Sunday's NBA games
Kyle Kuzma is tired of how his teammate Lonzo Ball is being treated

The Warriors used a huge third quarter to come back from a 23-point deficit to get the win

Three takeaways from Golden State's 24-point rally past the Sixers