Report: Spurs coach Gregg Popovich intends to finish his 5-year contract
San Antonio head coach Gregg Popovich reportedly isn't going anywhere.
• 1 min read
It looks like San Antonio Spurs head coach Gregg Popovich isn't going anywhere for a while. With LaMarcus Aldridge aboard to help the team transition to the post–Tim Duncan era, he plans to stick around until at least the end of the 2018-19 season, according to ESPN's Marc Stein.
ESPN sources say that Gregg Popovich, as of now, is intent on coaching out his entire five-year contract that he signed last summer

— Marc Stein (@ESPNSteinLine) July 4, 2015
Signing of Aldridge all but clinches notion that Popovich, as we've been writing for a year now, will NOT go out when Tim Duncan goes out

— Marc Stein (@ESPNSteinLine) July 4, 2015
Popovich doesn't like to talk about himself, and he particularly doesn't like to talk about his future. Usually, he just makes jokes about the paycheck being pretty good. In all seriousness, though, why would he leave? He's still the best coach in the NBA, and his roster is going to remain elite for the forseeable future. As well as Aldridge's arrival, Kawhi Leonard is locked up for five years. Popovich's presence was surely a factor in both of those decisions, and he wouldn't want to let them down, would he?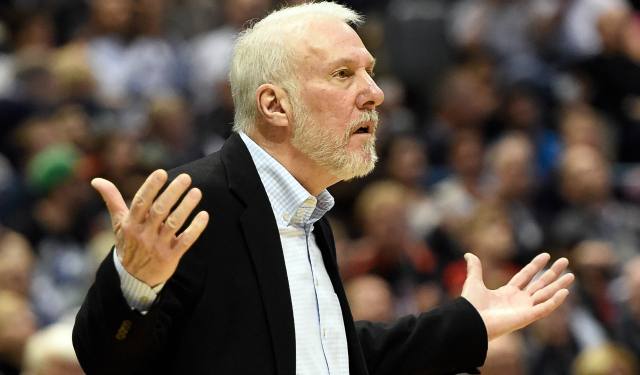 We've got you covered for all the scores and highlights from Sunday's NBA games

The Cavs superstar compared Kaepernick to Martin Luther King Jr. and Muhammad Ali

The Warriors coach isn't surprised that the president and LaVar Ball are in a war of words
Kyle Kuzma is tired of how his teammate Lonzo Ball is being treated

The Warriors used a huge third quarter to come back from a 23-point deficit to get the win

Three takeaways from Golden State's 24-point rally past the Sixers