Report: Stan Van Gundy assures Josh Smith he won't be traded
Pistons president and head coach Stan Van Gundy reportedly told Josh Smith that he expects not to trade him.
• 1 min read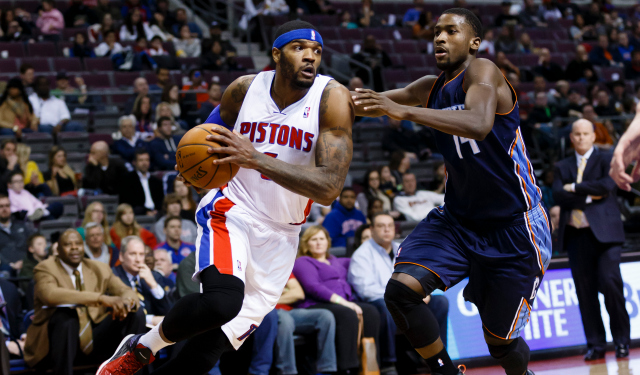 More Offseason Analysis: Coaching changes, news | Free Agency | Draft
Detroit Pistons president and head coach Stan Van Gundy has reached out to forward Josh Smith to tell him that reports about trade talks with the Sacramento Kings are false, and that he expects not to deal him this summer, according to Yahoo Sports' Adrian Wojnarowski.
Sacramento had made calls about Smith in June, but Detroit never heard an offer that remotely interested them and never seriously engaged in discussions, sources told Yahoo Sports.

Since his hiring in the spring, Van Gundy has had productive discussions with Smith and sources say that Smith has been enthusiastic about moving forward with Van Gundy as coach.

Smith could return to a frontcourt that includes forward Greg Monroe, who is a restricted free agent this summer. The Pistons have been willing to engage teams in sign-and-trade scenarios for Monroe, but those talks have gained little traction, sources said.
The Detroit News reported last week that Van Gundy had met with Smith and made no promises about his future. This news could just be the Pistons trying to create leverage so it doesn't seem as if they're desperate to unload him.
Greg Monroe's situation in restricted free agency is still unresolved, and it's hard to imagine Van Gundy wanting to bring back the Smith-Monroe-Andre Drummond trio from last season. Smith at small forward has proven to be a bad idea, and the team was a disaster when all three of them played together.
Van Gundy does seem like a great coach for Smith, but the fit with the rest of the roster is questionable at best. Breaking up the group of bigs still seems like the safe bet, though it's clear that negotiations with Monroe and suitors for Smith have been troublesome.
The former Clipper apparently had some tricks up his sleeve after a chippy game

The Rockets were apparently looking for Austin Rivers and Blake Griffin after a chippy gam...

If they don't meet in the Finals again, let's appreciate every one of the 27 matchups since...
D-Wade picked up the steal and got creative on the fast break as the Cavs headed into half...

Despite the embarrassing hiccup, the youngest Ball had himself a pretty great day on the c...

The players were both ejected in the closing seconds, then continued their discussion off the...